Roussillon is located in the extreme west and the last part of the French Mediterranean cost, right next to the border with Spain. Surrounded by high altitudes, Roussillon is separated from the neighboring districts. In the north is the Corbières steep limestone hillsides. In the West extends the Canigo massif out and in the south, Albères and Roc de France constitute the border with Spain. A dry summer, a rainy autumn and an early spring characterize the climate of Roussillon. The warm Mediterranean climate and the protection from the mountains promote the grape maturation. The Roussillon vineyard stretches back to 600's when Greek sailors, attracted by the Catalan mining fortunes, settled in the region.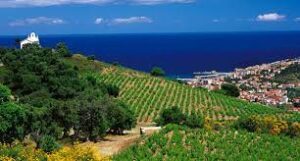 The winegrowing developed in the Middle Ages and "les vins doux naturels" quickly gained a reputation. Red Côtes-de-Roussillon and Côtes-de-Roussillon-Villages are produced in Roussillon.
The main grape varieties are Carignan, Grenache, Lladoner Pelut, Mourvèdre and Syrah for the red wines. The white wines of Roussillon are mainly made from Grenache Blanc, Macabeo, Malvasia, Muscat, Marsanne, Roussanne and Vermentino. Roussillon also manufactures 90% of the French "vin doux naturels" – or in English "the naturally sweet wines."
The sweetness of these wines comes exclusively from the grape juice, no sugar has been added. Distilled alcohol is added to the wine during the fermentation process.
This interrupts the fermentation process and the sugar of the grapes is therefore not converted entirely into alcohol, but is naturally left in the wine as a natural sweetener.
The process is similar to the ones applied for the production of Porto, Madeira and Marsala. The most famous "vin doux naturels" from Roussillon is Banyuls, Maury and Riversaltes. These wines are excellent as a drink to blue cheese, to desserts or even to a piece of good dark chocolate.