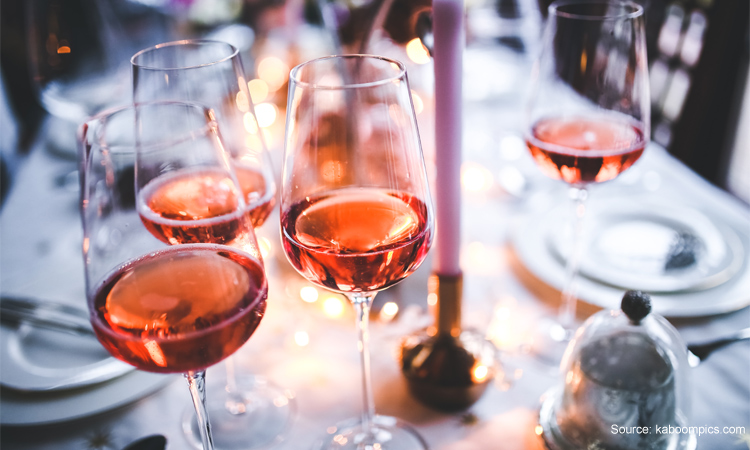 Rosé wine and its irreplaceable place on the dining table
We are mid-June and the Rosé wine season 2017 is in full swing. The demand for rosé wine is quite linearly related to the mercury level of the thermometer and when the summer sun and heat return, we'd like to have something light and cooled in the glass. The rosé wine becomes the perfect alternative to red wine and white wine. The rosé trend has been very positive for several years and is usually consumed in casual moments between friends hot summer days and evenings. It also goes well as a « talk wine » with some olives, or just a wine to relax. Unfortunately, these moments are often far from the dining table. The rosé wine is, at least in southern France, not a « drink », nor a new trend, but probably the world's oldest wine, which was already produced by the ancient Greeks, probably even earlier. Long into the Middle Ages and then during the Renaissance, a so-called red wine was consumed in France, but which in our eyes could rather be described as a dark rosé wine.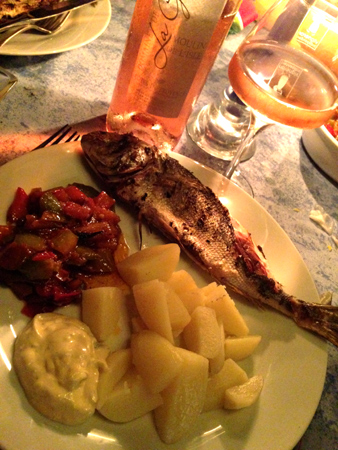 The rosé wine is therefore not new trend but is wine with long history. However, the development in modern times have gone different ways depending on which wine region we are talking about. The Greeks laid the foundation for the city of Marseille already 600 BC. They brought their wine-growing skills – which at that time when it came to red grapes was only rosé wine – to what we now call Provence. And it's particularly in Provence that the rosé wine has remained through all the years to become the reference for what we call good rosé wine today. Provence is by far France's oldest wine region. A light salmon-colored wine – light, fruity but without vulgar sweetness, elements of citrus, exotic fruits and white flowers tend to be the general description of Provencal rosé wines. Rosé wine is drunk in Provence all year long, not just during the summer months and almost not outside the dining table. As an aperitif, the rosé wines compete with the local anise-drink Pastis mixed with water. 88% of Provence's wine production is today rosé, although nothing remains to be learned when it comes to the skills of producing elegant red and white wines.
Despite this, the rosé wine category has not had an easy way to gain credibility for being on equal quality level as red and white wine, at least when it comes to what we read in press. Many wine journalists still find problems to appreciate and see the rosé wine category equal to white and red wine. Why is this ? There are probably several reasons for this.
Journalism and Media in France is based in Paris and Provence has been regarded in the centralized France as a mild southern part of the French province. Certainly charming, but not as serious as Paris's neighboring regions, with history directly anchored to Paris and with the Royal court supplier reputation from the time when France was a monarchy. The rose wine from Provence has become the favorite drink for holidaymakers at the edge of the pool. In this case more as a drink rather than a beverage for the dining table.
In addition to this, the wine appellations in the south have certainly been weaker and slower over the years to market themselves internationally. This compared to larger wine regions such as Bordeaux and Burgundy, which were significantly more effective, but did not make much effort on rosé wine. Maybe with Marsannay and Bordeaux Clairet as the 2 exceptions.
Some also believe that the rosé wine had a long way to go since it was some 30 years ago of such poor quality and therefore needs time to break this reputation. However, that argument does not apply, since this the case also for red and white wines, which also have gone through significant improvement in quality in many of the world's wine regions.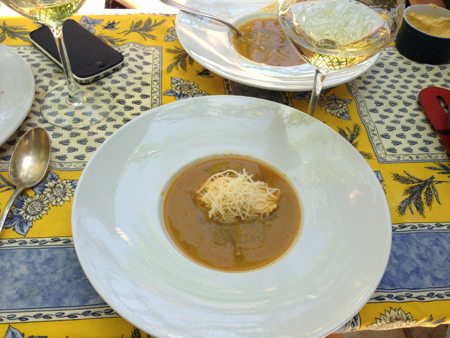 If, then the Provencal rosé wine has its special place in the world of wine, how should it be defined and what makes it unique? ? Rosé wine is an excellent aperitif wine, as we all know, but it is also a gastronomic wine or food wine that fits much better than white wine or red wine for several dishes. The expression that food and wine of the same origin are the best fit also applies to the rosé wine. The southern French gastronomy is to be enjoyed with a local Provencal rosé wine and to clarify this, it is possible to say that all foods with a lot of garlic are best combined with rosé wine. The person who contradicts this has not tasted a real pasta with pistou (French variant of pesto). Also, a real Bouillabaisse from Marseille with crackers rubbed with fresh garlic and a garlic rouille, a pistou soup or an aioli that is not just a sauce but a whole fish dish with the well-known garlic sauce. A grilled fish with tapenade or anchoiade sauce can not be paired with anything else than rosé wine ! What is typical for fish and vegetable dishes from southern France is that the Mediterranean sea gives sting and taste to the fish and herbs such as rosemary, thyme and sage, as well as garlic have strong tastes to the extent that a fine and elegant white wine from eg. Burgundy is likely to be "fired out" by such a flavor fireworks. It will be better to save the white wine for another occasion. A red wine on the other hand, risks to become too powerful, the bitterness and tannins take over, especially during hot summer months. A gastronomic fruity rosé wine, however, stands out better than white wine against stronger flavors, while giving a more refreshing and fresher impression than red wine.
Rosé wine therefore has its distinctive and own gastronomic universe that you then have to experiment with and improve by yourself. Sushi and spicy dishes from Asia for example go perfectly well with the rosé wines from Provence.
Last but not least, it should be mentioned that it's the same for rosé wines as for red and whites; they don't have to be the most expensive to be the best, but there is usually a reason why prices vary. A good rosé wine is not cheaper than its equivalent in red or white and the one who just focus on price will be disappointed with the rosé wines he is offered.