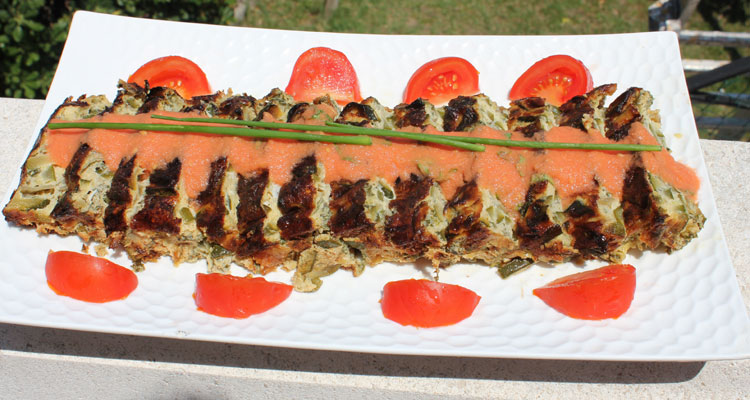 Terrine de courgettes à la menthe
Zucchini-terrine with mint
We need :
1kg of zucchini cut into small pieces, 2 chopped onions, 2 chopped garlic cloves, 3 whipped eggs, a bunch of fresh and chopped mint, olive oil.
Fry the onions, the garlic and the zucchini in a pan with olive oil for 10 minutes. Add this to your beaten eggs and the mint, then salt and pepper. Turn all of it into a cake pan and then bake for 40 minutes at 180 ° C. Take out the terrine and let it cool, then place it in the fridge.
Crushed tomatoeswith basil
Peel 3 or 4 fresh tomatoes and mix with salt, pepper and olive oil. Put the sauce in a bowl and add the chopped fresh basil. Place in the fridge.
This dish is very tasty and fresh in the summer and it's very easy to make. Basil and Zucchini are 2 main ingredients in the Provence-cuisine so we therefore recommend to serve this dish together with a glass of chilled rosé wine from Provence such as the very aromatic "Moulin de l'Isle" from Domaine de la Giscle.
For those of you who prefer a more luxourus, oak barrel store roséwine, we recommend the Guy Da Nine from Chateau Mascaronne and L'Excéption from Château Thuerry.
Enjoy Your Meal!