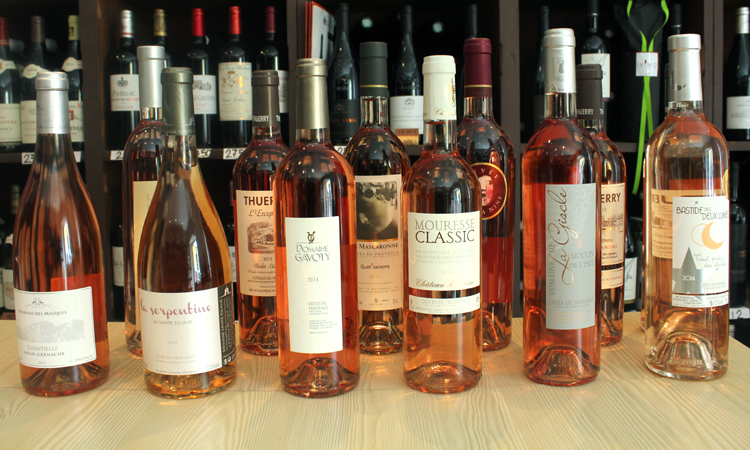 10 wrong rumours You always wanted to know about rosé wine * but were afraid to ask"
1. Rosé is a subcategory to red and white wine.
Wrong. Many wine regions in the world focus correctly on red wine and white wine and the world consumption of rosé wine is still just some 10% of all wine. But in Western Europe, Brazil and China, 17-25% of all consumed wine is rosé. In France, which is the biggest wine producing country in the world, rosé wine represents 30.3% of all wine which is sold through supermarkets. White wine only represents 17.2% (source: IRI 2014)
2. Rosé can't be stored.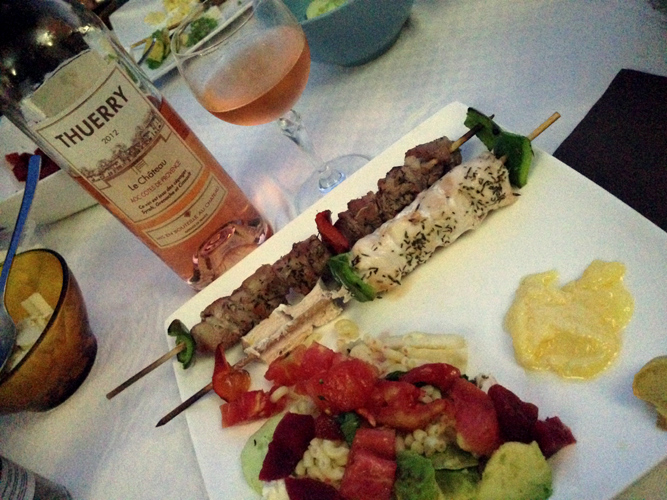 Château Thuerry 2012 served during the summer 2015. The storage has "calmed down" the wine which has a round and fruity flavor – not to the nearest oxidized – excellent to skewers.
Wrong. Just like with red wine and white wine, it all depends on which wine we are talking about. Simple red and white wines should be drunk young and it's exactly the same with rosé. A large part of the mass rosé wines, marketed through supermarkets, should correctly be consumed young. But this is mainly a question of range and assortment, rather than of product category. Well-made rosé wines may be stored a few years. The Bandol appellation in Provence for example, produces rosé wines out of Mourvèdre which sometimes are recommended for storage up to 10-15 years. Likewisely, the Tavel appellation further west, can recommend storage of their rosé wines. Stored rosé wines obtain a rounder taste with less fruit and acidity, often with complex hints of caramel, candied fruit and toffee. Oak barrels stored rosé wines usually support storage for at least 5 years.
3. Rosé wine is a new fashion thing.
Wrong. Rosé wine is probably the oldest wine made and was probably the wine consumed by both the ancient Greeks and the Romans. Rosé wines from the Loire district of France was probably served in the Louis XIV's royal salons in Paris and today's exclusive red Burgundy wines are described in literature from the past as being bright, clear wines. Even in Bordeaux, which in the later Middle Ages was invaded and ruled by England, made itself a fortune exporting «French Claret» to the thirsty Englishmen. French Claret was a dark rosé wine which exists even today, called "Bordeaux Clairet". This is however a wine which may not be our current favorite. Rosé wine is certainly the name of all wine drunk until the early 1800s. Before that, there was simply no controlled technique for macerating red grapes with the skin. The color in red wine comes from the red grapes' skin. If you press the grapes immediately after the harvest without first macerating them, the wine will become a rosé. Today, 90% of the French Côtes-de-Provence wines (despite the very good red and white wines) are still rosé. Also Corsica, the Roussillon and the Loire are French wine regions where the production of rosé wine represents more than one 1/3rd part of all wine produced. Then it is true that the international interest in rosé wines in general has exploded in recent years.
4. Rosé wines are cheaper than white and red wine.
Right and wrong. You can find very cheap rosé wines. However, the taste experience in the entry price segment is not particularly interesting. The wines are often downright bad, and help to provide the rosé category with a bad and dishonest stamp, coveying the image of rosé with ice cubes in the glass during the summer with a swimming pool in the background… A good rosé does not have to be luxury, but in return is not much cheaper than a vineyard's white or red wine from the same segment.
5. Rosé wine should be drunk ice cold.
Wrong. You often hear that rosé wine should be served ice cold – some don't even hesitate to add ice cubes. If this feels necessary, choose a simple rosé. However, if you want to really get the most out of a bottle of well-made rosé you should avoid ice which dilutes the wine. Serve rosé at between 7-10 ° C. If it is hot outside, it can be served slightly cooler, since the wine warms up a bit while opening the bottles and pouring the wine into the glass. The palate should be refreshing and cool, but not ice cold since the cold numbs the aromas and taste.
6. Rosé wines is made of red wine and white wine mixed.
Right and wrong. In some countries it's allowed such as in the USA, Australia and in South Africa. In Europe, the wine must, however, be made of red grapes secreting red color via the skins in varied doses during the maceration. Attempts were made by the EU-comission with Mr. Barroso as the front figure, back in 2009, to also introduce the mixing opportunity in Europe. The objective was to make European rosé wines more competitive with wines from the New World. The project created outcry among winemakers with professional pride and the bill had to be put down.
7. Rosé wines all taste about the same and lacks complexity.
Wrong. But basically it's a question of attitude. Somebody without interest will see red wine just as red wine and white wine just as simple white wine. The same goes for rosé wine. However, for those who take a genuine interest in wine, a world of aromas, tastes and impressions opens up with each new bottle opened – whether it is red, white or rosé wine. Citrus, grapefruit, white flowers, red fruits, honey, apricot – round taste, fruity, dry, fresh flavor, minerality are just some of the impressions you can experience from rosé wine. This is not snobbery, just a simple, spontaneous, personal and completely natural analysis that food and beverage interested persons do, when putting something in their mouth!
8. Rosé wine is no food wine.
Wrong. Several dishes, especially the Mediterranean are best enjoyed with a glass of rosé wine. Garlic, for example, is a spice which goes best with rosé wine! But also a grilled Mediterranean fish, an aioli (the meal, not the sauce!), A pasta with pistou (variant of the Italian pesto), a bouillabaisse is alongside the aperitif the best dishes of rosé wine. Finger food, antipasti and hearty salads and marinated meats from the grill are other good examples of rosévinsmat. Further works rosé fantastically well to Asian cuisine and is probably not just as good as red or white, but much better for some spicy dishes. Red wine gets example rough and tanninkraftigt with spicy and sweet ingredients and white wine can be overshadowed and destroyed if the food is too strong and the wine in question has a subtle taste. Save the white wine bottle to a more neutral dish.
9. Light rosé is a quality guarantee.
Wrong. Bright rosé is popular, but watch out – the color is no guarantee for quality. Sulfites for example bleaches wine and the wine made carelessly without good control of oxygen supply, requires large amounts of sulfur to protect the wine from oxidation. Sulphur protects from oxidation, but also helps to brighten the wine. Rosé wines from Provence are generally brighter than many other rosé wines. It's a style and many are fantastic – actually the best according to us. But the color is not the only criteria for quality, it would be too easy ! French rosés from Tavel, Roussillon, the Loire and Marsannay are for example darker, but are considered to be of high quality.
10. Rosé wines are basically the same, but with different labels.
Wrong. Culturally speaking, there is a big difference between rosé wines from different regions of the world. American rosé wines are often sweeter than, for example French. Provence rosés are brighter than many others. Our choice goes to Provence because of quality and tradition, in the same way as our choice goes to the Veneto when we talk Apassimento wines or to Champagne when we talk sparkling wine. There are exceptions of course, but these regions are the norm setters for quality wines in their categories.