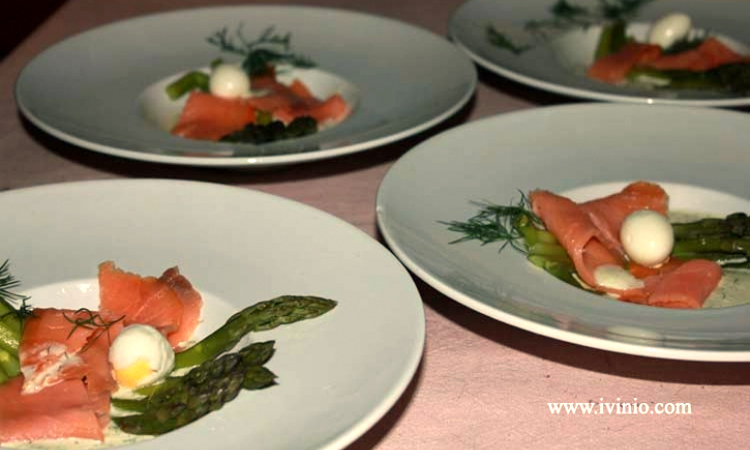 Aspargus and smoked salmon with its creamy dill emulsion
SMOKED SALMON ASPARAGUS
Ingredients for 4 persons : a beautiful bunch of fresh green asparagus, 200 grams of smoked salmon, 4 cooked quail eggs (normal eggs if not available), 1- 2 shallots, 100g feta cheese, 1.5 dl liquid cream and some fresh dill.
Cut off the base of the asparagus, peel them and cook them in a pressure cooker for 5 minutes in lightly salted water. Keep a few of the asparagus tops which you cut into small pieces – to be utilized for the sauce. In the meanwhile, open your bottle of chilled rosé wine from Provence, of course chosen from our range ! We recommend a Chateau Mouresse Classic together with this starter. The chef is allowed to fill up a small wine taster glass before the dinner. It's of course just to make sure the wine is good;-)!
Then it's time for the sauce : chop the shallots finely, thenfry them in a frying pan together with some olive oil and the raw asparagus tips. Add the chopped dill, the feta and the cream. Then mix it all. The hot sauce should then be poured into a syphon. If you do not have a syphon, you can first wip the cream you then stir the cream gently with the other mixed ingredients.
Now to the presentation! Put some of the creamy dill & feta emulsion into a bit hollow plate. Wrap the aspargus strips of the smoked salmon, place the aspargus into the plate. Decorate with a quail egg and then sprinkle with some dill.
That is, your starter is ready to be served! In fact, in the mean time you were not supposed to drink the whole bottle of rosé wine. You can therefore now pour a glass for each of your guests and if you are numerous, just open another bottle !!!