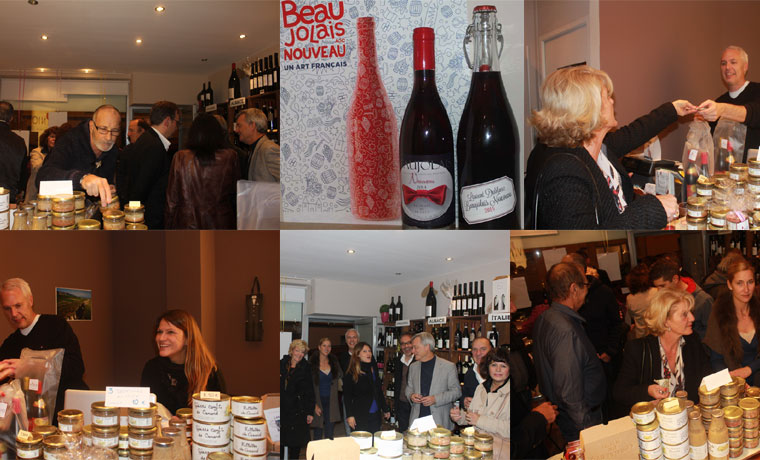 Beaujolais Nouveau, for or against?
A lot has been said about this Beaujolais Nouveau "primeur wine", launched worldwide every year on the third Thursday of November . The wine is made almost entirely of Gamay grapes from the harvest in September. Only 2 months later, the wine is produced, bottled and sent out to all corners of the world. Some believe that Beaujolais Nouveau is just a commercial stunt which doesn't bring any particular taste sensation, while others think it is a serious wine which also creates a nice happening ringing in the new wine year with a new vintage on the label.
Our view of the matter is that it's as with most things in the world of wine; it comes down to selecting good wines from serious producers and then adapt what you eat to the wine you've chosen. Wine is primarily a table beverage to be enjoyed together with food!
Beaujolais Nouveau is a fruity and light red wine which should be tasted together with finger foods such as cheese, cured meats, quiche etc… in a relaxed environment with good friends! Every year, around 15 million bottles are exported worldwide. The biggest devotees are the Japanese who alone represent nearly 8 million imported bottles.
In any case and no matter what you think of Beaujolais Nouveau, it's a festive event, which had the advantage of putting the Beaujolais region (which actually represents the southern part of the Burgundy district!) on the world map. Some believe that the Beaujolais Nouveau unfortunately contributes to ruin the reputation of the other more serious Beaujolais wines. Once again, we think it is adaptation issue. Beaujolais Nouveau is not to be drunk in the same way as a "Cru". Beaujolais Nouveau is an unpretentious wine, however, can be very good – in some cases better than a regular Beaujolais or even a "Cru" -wine.
In the Ivinio wineshop we celebrated the "Beaujolais Nouveau" on Thursday evening the 20th of November and customers came and tasted wine with sausages, cured meats and other snacks. Thanks to all of you loyal customers who made this a very nice evening!