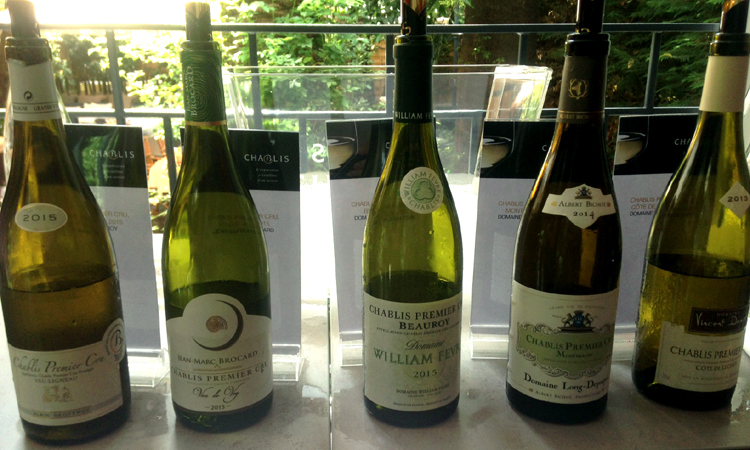 Chablis – a great Burgundy with its own style
Chablis is one of the most famous white Burgundy wines. This is true in France, but also internationally since not less than 65% of the Chablis production goes to export. And of course, the mineral Chardonnay wine from Chablis is outstanding for those who like dry, tight and crispy white wines with high acidity.
Chablis is actually a town – or rather a village with it's just about 2,400 inhabitants – located in the northern part of Burgundy. The vineyard stretches about 10 km in each direction around the city and includes 20 different municipalities. Unlike the prestige appellations in Côtes de Nuits and Côtes de Beaune, Chablis has on its own created its reputation as being one of the top white wines of Burgundy. The neighbouring appellations such as Irancy, Saint-Bris and Vézelay are much less known and the entire northern part of the Burgundian vineyards "Le Chablisien-Axerrois" is  significantly less mentioned than the corresponding Côtes-de-Nuits or Côtes de Beaune further south. Le Chablisien-Axerrois is also not geographically linked with the other Burgundian vineyards that extend from the town of Dijon towards the south. Le chablisien-Auxerrois actually stands out like an "island" quite exactly between the French capital of Paris and Côtes-de-Beaune's "capital" Beaune.
"No smoke without fire" as the French say, and the Chablis unique character that created the demand of wine and reputation builds in many ways on the unique soil; the vineyard was covered by sea 150 million years ago and the seabed of the past has created today's calcareous soil, rich in oyster fossils and called Kimmeridgien.
The Romans were those who introduced the wine in Chablis, sometime during the first three centuries a. Kr. But it's the Cistercian monks in the abbaye of Pontigny, who have been considered to be the boost behind the cultivation in  the 1100s and who got the wine introduced on the table of the French court ! This in turn has contributed to an increase of interest in Chablis abroad and in the increase of exports.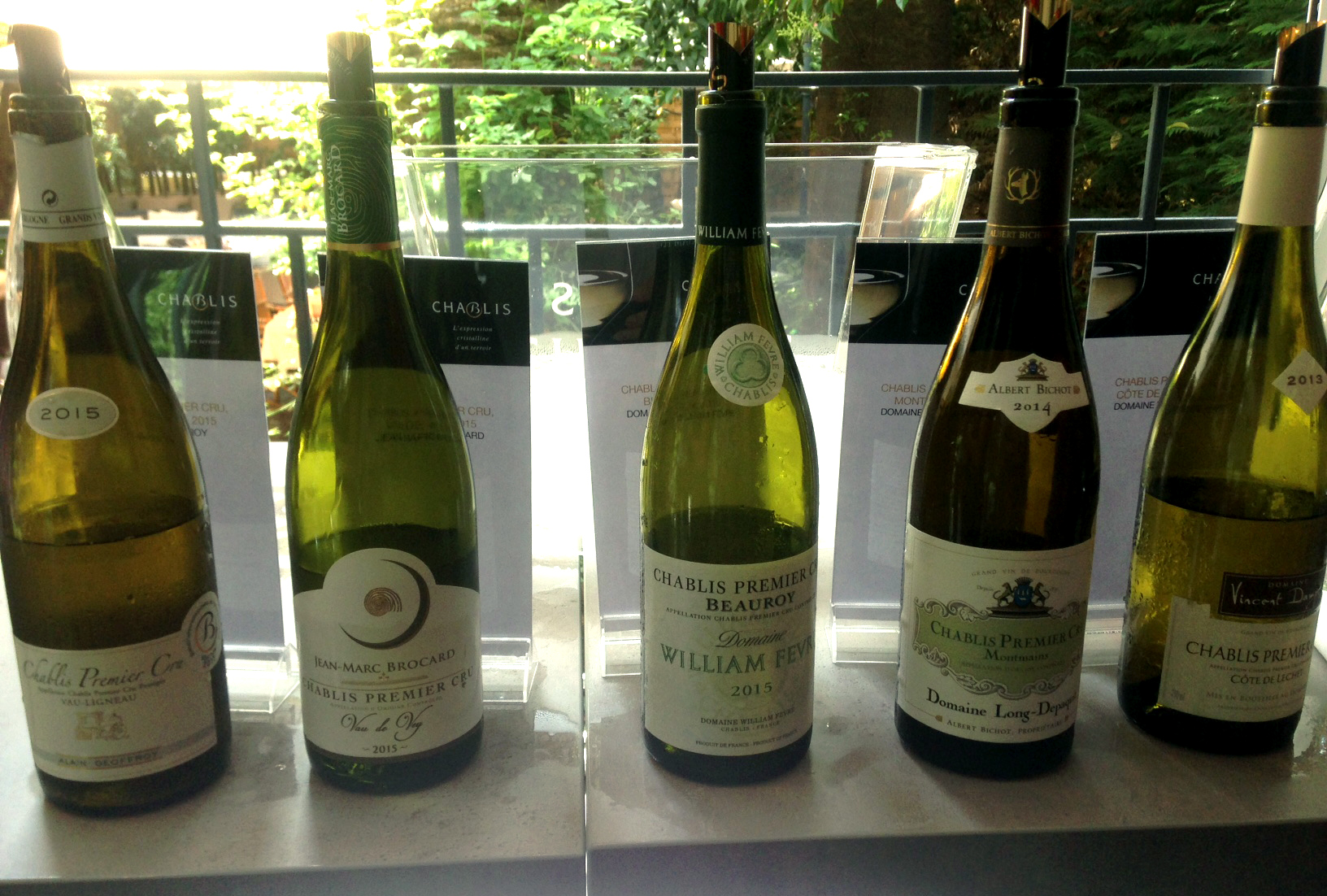 A selection of Chablis 1er Cru from the left bank ("La rive gauche"). From the left: "Vau Ligneau" 2015 from Domaine Alain Geoffroy: very well-made, second best in test. Fine acidity with classic style. To serve young. "Vau de Vey" 2015 by Jean-Marc Brocard: Technical. Quite ok but lacking charm. Beauroy 2015 by Domaine William Fevre: very vibrant and crispy in the attack followed up by a rounder finish. However, oak which doen'st appear. "Montmains" from Domaine Long-Depaquit: a candy bag! Elegance and style, perfectly oaked without vulgarity. A favorite among the big ones. Côte de Léchet 2013 from Vincent Dampt. Five year storage. Nice balance between candied fruits and acidity and a round style in front of fresh minerality. Our favorite.
Chablis is produced only as white wine and only from Chardonnay. This makes the wine quite easy to understand. On the other hand, there are 4 different categories of Chablis wines, where "Petit Chablis" (little Chablis) is the most accessible variant. Then, there are the regular Chablis, Chablis 1er Cru and Chablis Grand Cru. Chablis 1er Cru are wines made from grapes cultivated in better exposed soils around the city of Chablis. Grand Cru wines are from what is considered to be the best "terroir" located on one single hill just outside the village.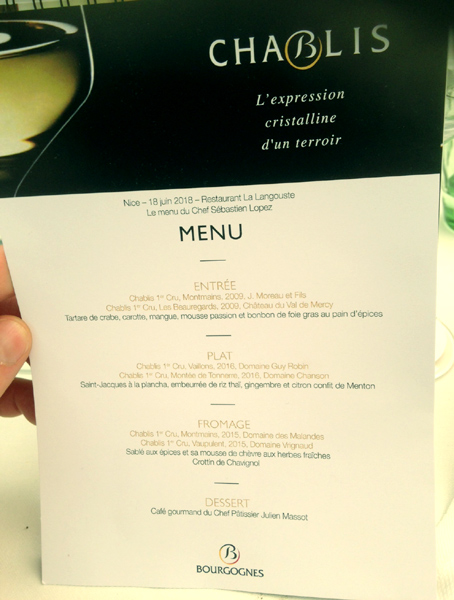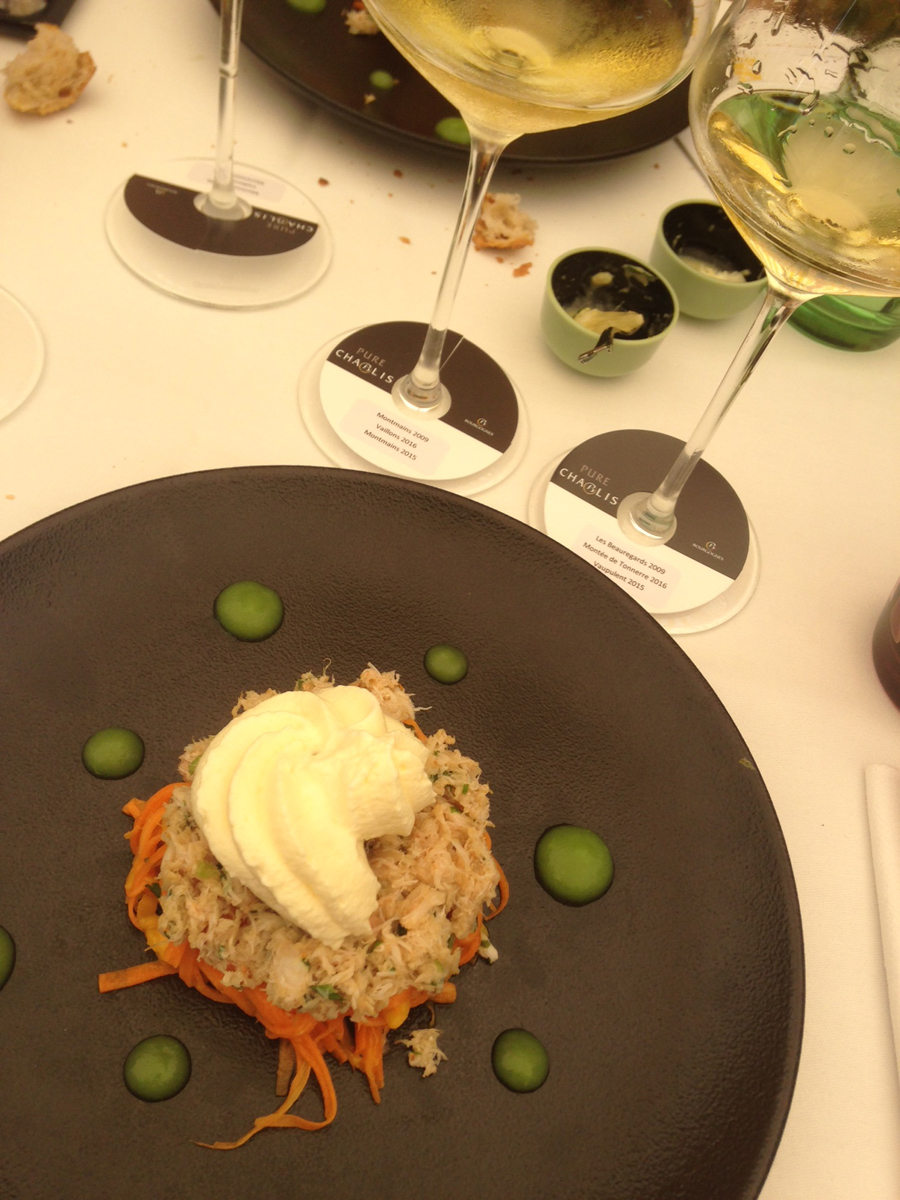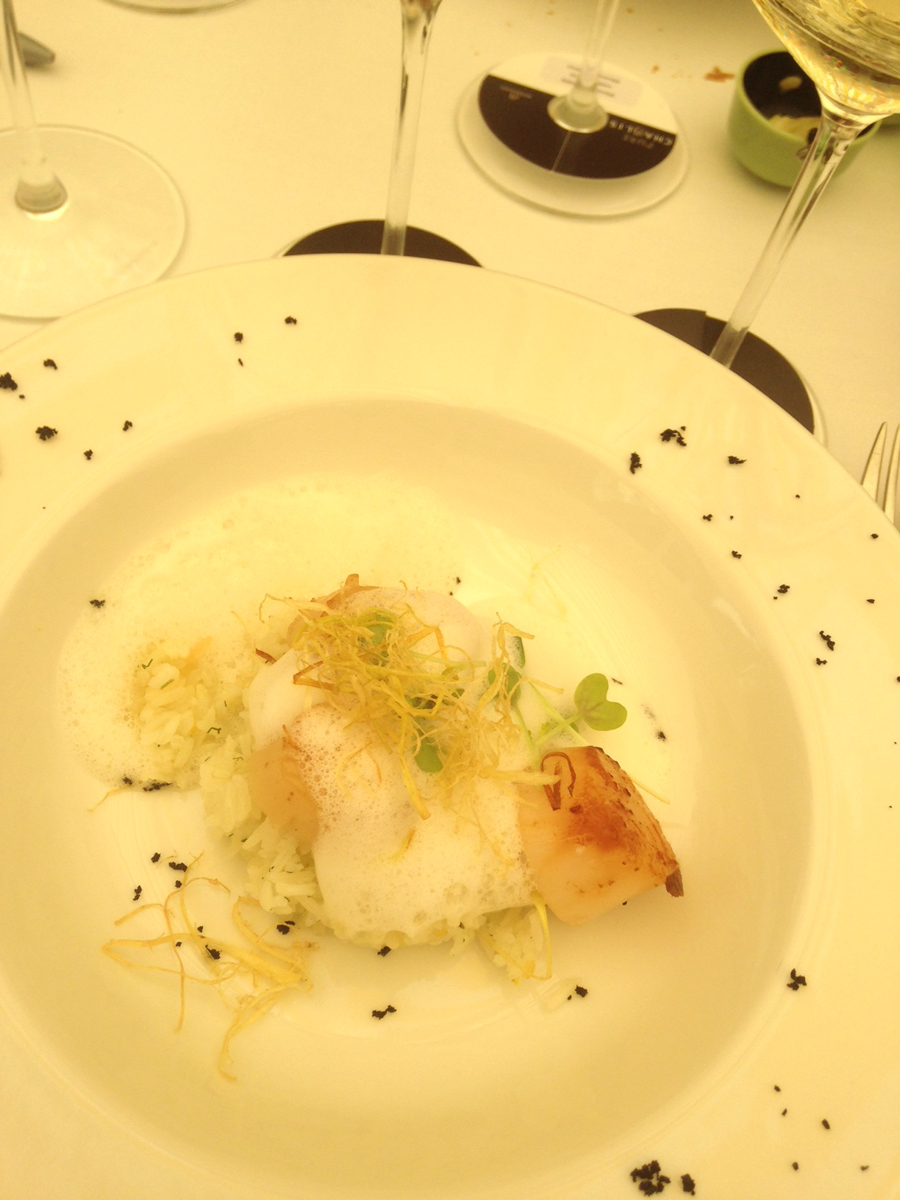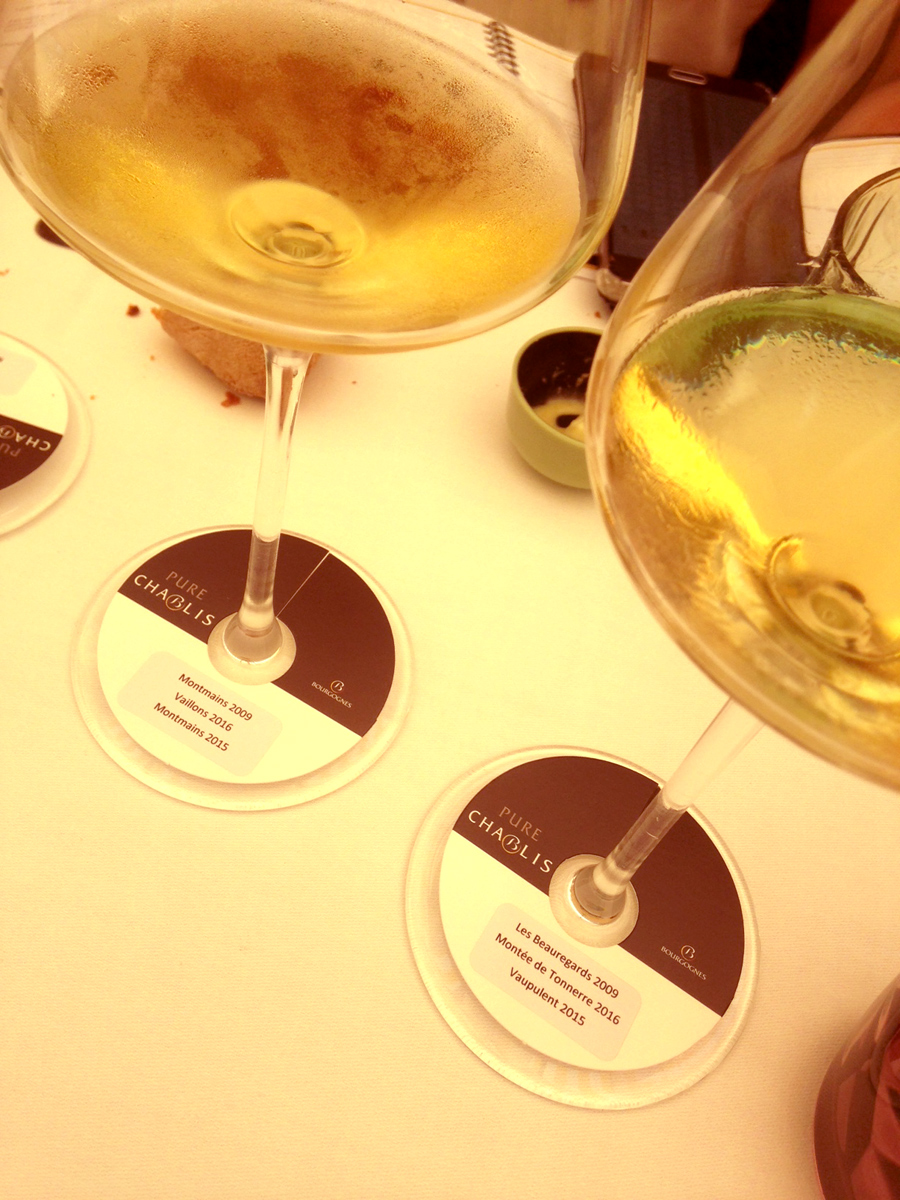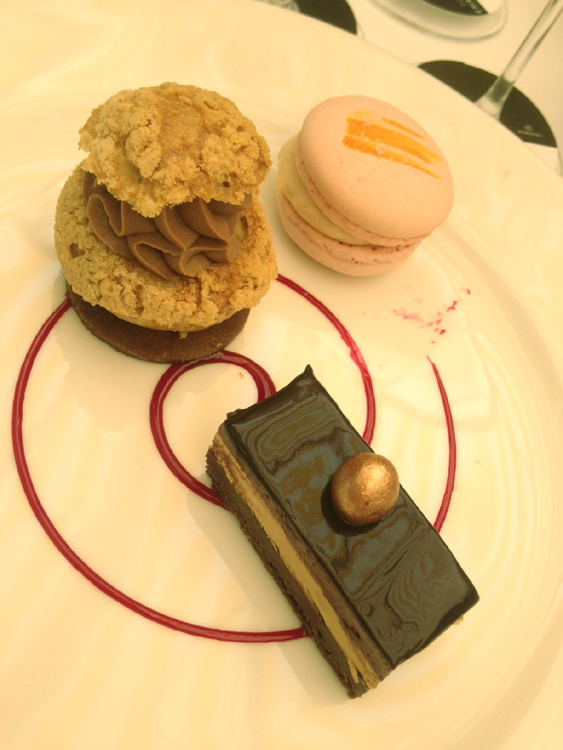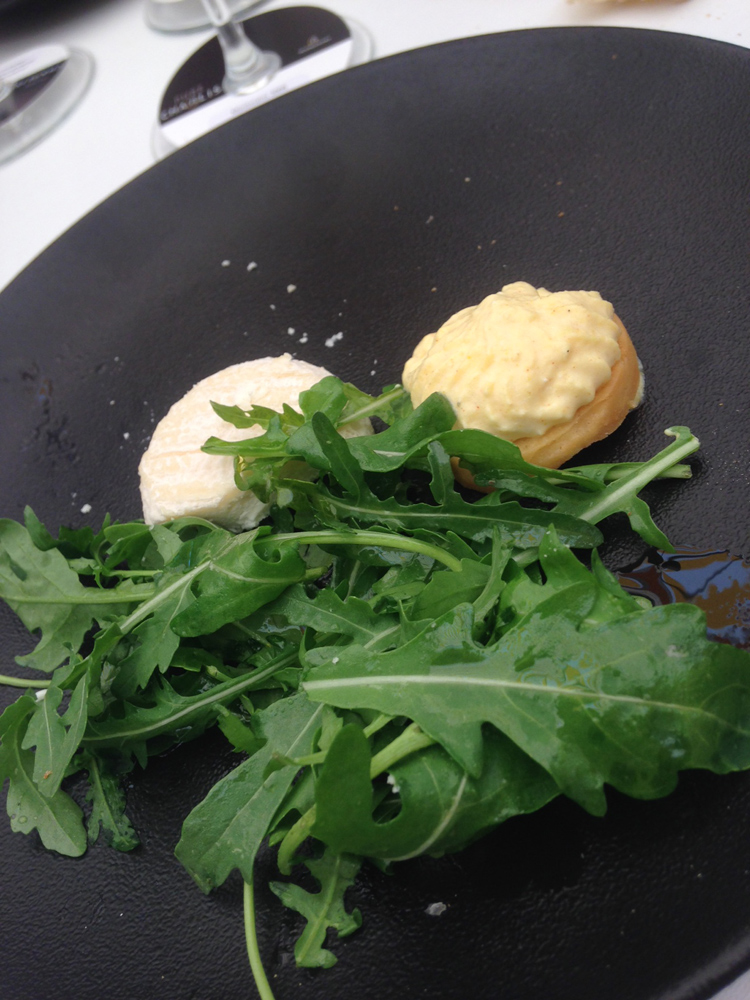 The river flowing through Chablis is called Serein and the wines are divided between "rive gauche / rive droite", or wines from the left and right river banks. 40 different climates with distinctive names have been created for Chablis 1er Cru and another 7 distinct names and climates exist for the Chablis Grand Cru. All Grand Cru are located on the right bank of the river, while the Premier Cru wines are scattered on both sides.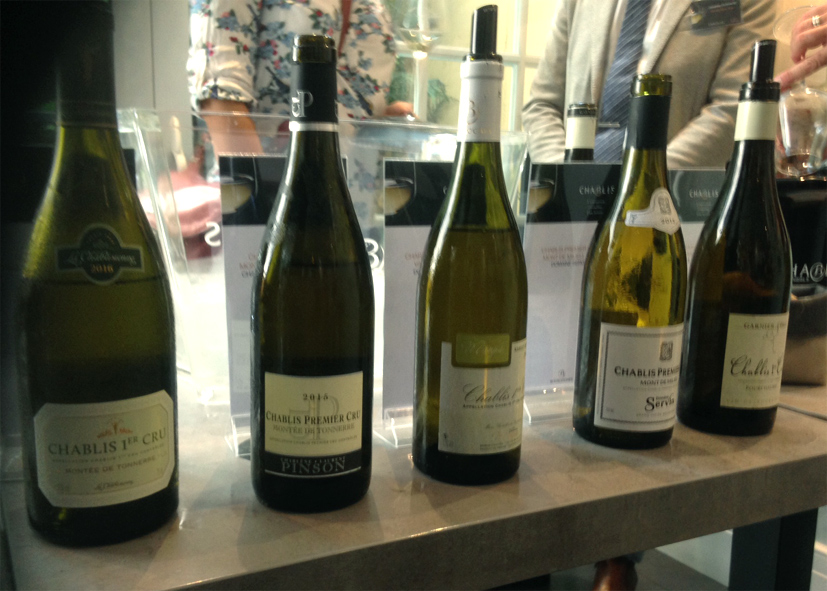 "Montée de Tonnerre" 2016 from La Chablisienne: correct, but nothing to comment, "Montée de Tonnerre" 2016 from Charlène & Laurent Pinson: own style with fresh crispy citrus aromas, high acidity and well-present oak. "Vaucoupin" 2015 by Domaine Maupa: shares the 1st place, fresh lemon flavors, the palate is juicy, full and round but balanced with fine acidity and minerality. "Mont de Milieu" 2015 by Domaine Servin: mineral and lemon shell aromas. An eager, lively palate, typical for shellfish. "Fourchaume" 2015 from Garnier & fils: shares the 1st place. Good allround wine: aroma of mature fruit, lively and mineral flavor with oaky tones in perfect harmony.
17 out of the 40 Premier Cru names are more famous and more selling than the others. These could be called "Porte-Drapeau" climates or "flagship climates". And it will probably not be easier for the 23 lesser-known climate to emerge. It is actually allowed for wines grown in a lesser known climate, to use the name of an adjacent, more known climate. The natural result of this is that  the more known and more selling climate is used and that you'll mainly find the 17 most famous Premier Cru wines in the trade, even if the wine itself has been grown elsewhere.
To taste Chablis :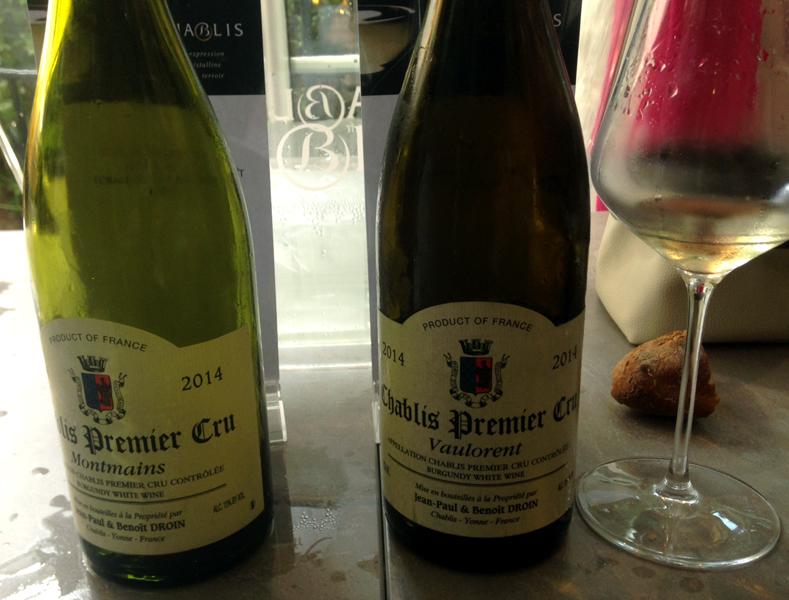 Just like for other wines, Chablis is a meeting between a vine, a terroir and a human (wine maker). In Chablis, however, the vine has less distinctive importance, since it's always Chardonnay. The climate zones are of course of main importance, but it's impossible to deny the wine maker's role with his skills and know-how being of great importance to the final quality of the wine. So big, that you can find Chablis wines that are at least as good as a Chablis 1er Cru. Furthermore, each wine-maker has its style and although the vine and the terroir are the same, there are wines with or without oak-storage. There are wines with tight mineral acidity and rounder, fruity, almost sweet varieties that can be paired with both stored cheeses and desserts. And not the less, the wines change character with age. Chablis wines are excellent for storage. Fresh and crispy fruit- and citrus aromas then fade away and some more nutty and oxidized tones take place. All this, allow Chablis wines to be served for dishes that not only consist of seafood and fish. It may be well worth keeping an eye on the wine maker's style, whether or not oak-stored and verify the vintage to pair the wine correctly at the right moment. However, a common denominator for Chablis is that the acidity is relatively high with well present minerality.
                                                                                                                                                             Rive gauche against Rive droite – "Montmains"                                                                                                                                                            against  "Vaulorent". Both echoes, fine acidity but                                                                                                                                                                       "Vaulorent" appear to be more complete.
The Chablis 1er Cru climates :
Porte-drapeau climates
Other Climates that can have use the same name
Mont de Milieu
Montée de Tonnerre
Chapelot, Pied d'Aloup och Côte de Bréchain
Fourchaume
Vaupulent, Côte de Fontenay, L'Homme Mort och Vaulorent
Vaillons
Châtains, Sécher, Beugnons, Les Lys, Mélinots, Roncières och Les Epinottes
Montmains
Forêts och Butteaux
Côte de Léchet
Beauroy
Troesmes och Côte de Savant
Vaucoupin
Vosgros
Vaugiraut
Vau de Vey
Vaux Ragons
Vau Ligneau
Les Beauregards
Côte de Cuissy
Les Fourneaux
Morein et Côte des Prés Girots
Côte de Vaubarousse
Less used
Berdiot
Côte de Jouan
Chaume de Talvat
Chablis Grand Cru climates :
Blanchots
Bougros
Les Clos
Grenouilles
Les Preuses
Valmur
Vaudésir