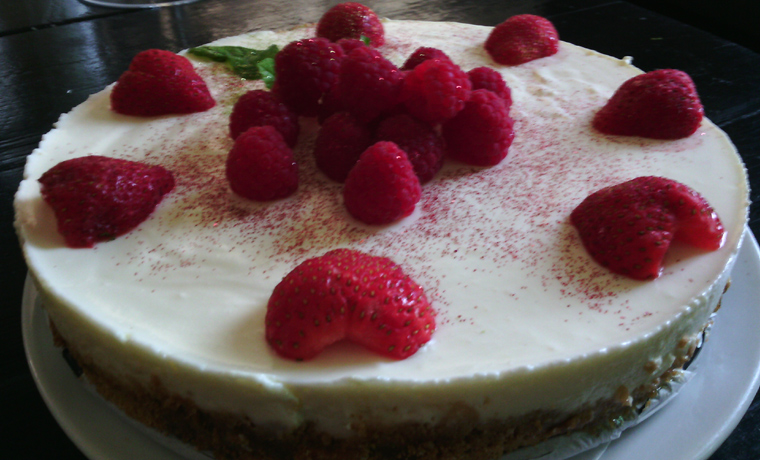 Delicious Cheesecake !
This dessert comes straight from New York. A biscuit base, a cheese filling … and a dose of imagination are the composants. There are almost as many cheese cake recipes as their are chefs. However, the recipe that Ivinio shares with you is the best we know! Very easy and most importantly, without need for a stove! The result is excellent and impresses as a dessert at the end of a nice dinner. We recommend to serve this dessert with a good sparkling wine or a real Champagne. Good luck!
Cheesecake
Ingredients :
– Speculoos biscuits 250g
-100 Grams of soft butter
-200 Grams of Philadelphia cheese
-1 dl of water
– 2 lemons
-2 tea spoons of vanilla sugar
– 8 tablespoons of sugar
-2.5 dl of cream
– 3 sheets of gelatin
Recipe:
-1 Mix the biscuits and add the softened butter to obtain a smooth mixture.
-2 Put greaseproof paper or aluminum paper into a cake tin with removable bottom and pour the biscuit mix into the tin. Tamp the mixture with a spatula. Put the filled cake tin in the fridge.
-3 Put the gelatine into cold water in order to let it soften. Heat 1 dl of water in a saucepan, stir in the gelatine and sugar, don't let it boil. Whisk vigorously.
-4 Beat the Philadelphia cheese, add the lemon juice (and zest if you want a stronger lemon flavor) and vanilla sugar. Add the gelatinous mixture into the cream cheese mixture and mix it all with a mixer.
-5 Whip the cream and add it into the rest.
-6 Take out the biscuit cake from the fridge and put the cheese mixture on it. Cover the cake with a plastic film and put it back into the fridge .
This dessert should ideally be made 24 hours before serving to give "structure" to the cake.
Removed the mold and decorate your cake with fresh fruit, chocolate, edible glitter, chocolate chips … Unleash your imagination!