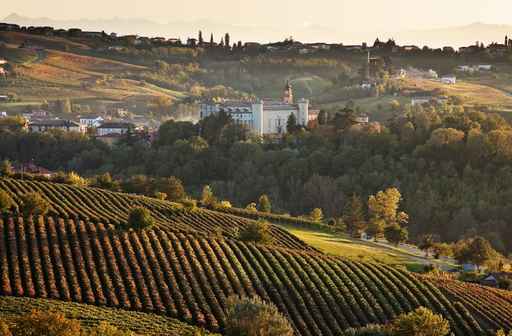 Piedmont is located in the northeastern Italy, and is one of Italy's most prestigious wine regions. Man has cultivated wine here since the year 500 BC. Kr. The Ligurians, who gave name to the region of Liguria, located along the Mediterranean coast, south of Piedmont, already traded wine with the Greeks and decided that the trade would be enhanced through local production in Piedmont.
The arrival of the Romans was a turning point in both the improvement of the production efficiency and an almost maniacal organization of the vineyards. The Middle Ages meant, like for many other wine regions, the erosion of the cultivation and winemaking techniques. However, the wine culture survived, sufficiently to pick up with the production during the Savoy Epoch. The main production of the wine takes place on the hills, in a for Italy, relatively harsh climate where snow is not uncommon in the winter. A large number of grape varieties are used, and the cultivations are highly variable depending on where they are located.
Wine is grown both in the mountains and on the plains. The climate is harsher in the mountains and milder in the valleys near the lake areas. These conditions provide a rich set of different types of wines. It's often the name of the grape that the wine was produced from that gives the name of the wines from Piedmont. Nebbiolo, Barbera, Dolcetto are some examples. In some cases the region (Langhe) is mentioned or maybe the name of the city that the wine comes from (Barolo, Barbaresco, Alba, Asti).
Today, Piedmont wines can be found all around the world and the Barolos and Barbaresco, made from Nebbiolo grapes, are considered to be among the most prestigious wines in the world. The Nebbiolo grape has sometimes been compared with the Pinot noir grape in Burgundy, when used for varietal wines.Worth noting is that Piedmont produces a large portion of sparkling wine. Asti, which is a sweet and fruity sparkling wine with a low alcohol content, is certainly the most famous. Each year 80 million bottles are produced, of which a large portion is exported. Asti is perfect for both aperitivo or to accompany a good dessert.