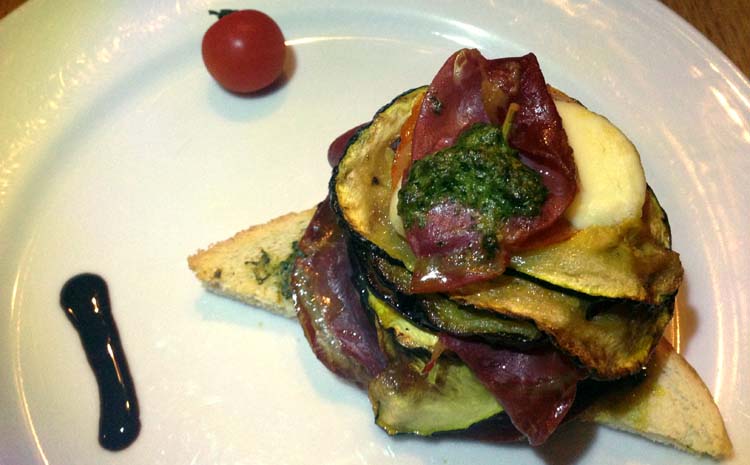 Grilled vegetables with mozzarella and coppa – Sicilian style
This starter will definitely appeal to those who like healthy vegetable dishes from countries around the Mediterranean sea! We recommend to serve it together with a nice and chilled rosé wine from Provence !!!
Ingredients for 4 people: 4 slices of toast, homemade pesto (1 bunch of basil, 2 cloves of garlic, 75 gr grated Parmesan cheese, 1.5 dl of olive oil, salt and pepper), 1 eggplant, 1 zucchini, 3-4 tomatoes, 2 mozzarella cheeses and 12 slices of Italian coppa ham.
Cut the eggplant, the zucchini and 3-4 tomatoes in thin slices. Fry the vegetable slices in pan with olive oil. Take them out of the pan once they obtain a nice color and put them on an absorbent kitchen paper. This is the not so fun part of the recipe, since it takes some time and you need to keep an eye on the pan so you don't burn the slices … Meanwhile you cook the vegetables, you can prepare the pesto! It's simple, you just mix all the ingredients together in a mixer. Then cut the mozzarella cheese into slices and toast the bread. For the decoration, you can either cut the bread into triangles as shown on the picture, or if you want to make a round shaped dish, you can cut out round toasts with either an "emporte-piece" or by pressing a glass or a round jar in the middle of the toasts : -)!
When all the vegetables are cut and fried, put a piece of toast on the cutting board. Then add the vegetable slices in layers, alternate with the mozzarella slices and the coppa ham. Don't forget to add a layer of pesto here and there ! Put a toothpick in the middle of it all to keep the ingredients stable together. When this is done, put the preparation in an ovenproof dish. Put the dish in the oven and bake for 10 minutes at 150-180 ° C until the cheese has melted. Serve immediately with a glass of chilled rosé wine from Provence !