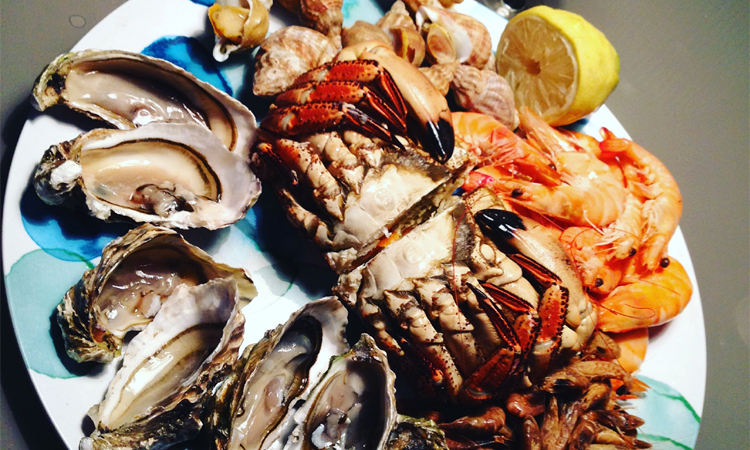 How to chose wine for autumn seafood and shellfish !
A plate filled with fresh shrimp, a cooked crab or a luxurious seafood platter are among the delicacies of autumn that make your mouth water.
As from September onwards, we have once again arrived at a month of the year that contains the letter "r". In September we enter the colder periodof the year and that is when seafood tastes best. None of the summer months are written with the letter "r" and the r rule is therefore good to keep in mind.
So what is the difference between shellfish in the summer and in the winter? During the summer, the oysters get a fatter and creamier taste, which can feel unpleasant in the mouth. The oysters have their reproduction period just during the summer and the reason why they feel creamier in taste is simply that they secrete their milk then. Crabs are usually poorly filled during the summer months and shellfish in general often have poorer quality during that period. Some exceptions exist; prawns for example taste good all the year around. Anyway, now it's autumn again and all the seafood tastes great ! seafood tastes great !
What should you drink for seafood then? Classically, many of us choose dry white wines, preferably made from Chardonnay and Sauvignon grapes. And of course it goes well, but it can also be interesting and exciting to discover new types of wines that go at least as well with seafood.
In France, there are the classic shellfish wines Chablis and Sancerre (the former made from Chardonnay grapes in Burgundy and the latter from Sauvignon grapes, produced in the Loire Valley). But there are many other dry white wines that also pair perfectly with shellfish. Muscadet wines from the western Loire Valley are excellent for a seafood plateau. Muscadet is called "Melon" in Burgundy and there are also interesting Melon wines to try, mainly in the northern part of Burgundy.
By the way, Burgundy offers only 3 white grape varieties, Melon, Aligoté and above all Chardonnay, all 3 pair perfectly well with shellfish. Aligoté wines have a crispy lemon-inspired style that goes well with oysters. The Chardonnay grape is used to make all the prestigious appellation wines in Burgundy, that all pair well with shellfish. Chablis-vinerna i norr har en torr och mineralisk stil, medan Chardonnay-vinerna i Mâcon-distriktet i syd (Pouilly-Fuissé, Saint-Véran, Pouilly-Loché, Viré-Clessé, Mâcon…) har en rundare mer aromatisk stil. In between we find lots of interesting white wines, mainly in the Côtes-de-Beaune district but also Marsannay, Fixin and Nuits-saint-Georges in Côtes-de-Nuits offer fine white wines perfect for shellfish.
A dry Riesling or maybe a Pinot blanc from Alsace pair very well with shellfish. Loire wines that are often made from Sauvignon are excellent, but also dry white wines made from the Chenin grape pair very well.
In Italy there are several different wines that pair well with seafood. A Vermentino from Liguria or from Tuscany is dry, elegant, mineral and not so alcoholic, which is perfect for oysters. In northeastern Italy, on the border with Slovenia, we find the Friulano from Friuli which is a dry aromatic alternative and further south we find the Soave from Veneto with hints of citrus and wild flowers. In Piedmont, we'll find the Gavi wines from the city with the same name, made from Cortese grapes. These wines often have hints of citrus and pear. Further south in the Marche we find Verdicchio dei Castelli di Jesi which is a dry and light white wine mainly made from Verdicchio grapes (min. 85%). Verdicchio wines have high acidity and hints of citrus fruits.
IIn Campania around Naples we find 2 interesting appellations in Fiano di Avellino and Greco di Tufo. Both wines are very aromatic and have slightly less acidity than several of the previously mentioned wines. Fiano di Avellino is made from at least 85% Fiano grapes and has fresh hints of white and exotic fruits and roasted almonds. Greco di Tufo is made from Greco grapes (at least 85%) and is characterized for its aromatic structure with hints of citrus fruits and almonds and a palpable minerality from the volcanic soil in which the vine grows.
In Sicily, we find a plethora of interesting white wines to serve with shellfish, which are often varietal wines, ie made from a grape variety. Grillo, Catarratto, Carricante, Insolia and to some extent Zibibbo are the most common grapes that give dry and interesting wines to shellfish. Biancho d'Etna is a very interesting appellation that gives mineral and elegant white wines grown at the foot of the Etna volcano. These wines are made from Catarratto and Carricant grapes.
Having described shellfish wines in general terms, it may be interesting to note that shellfish shouln't be considered all the same. Not all shellfish taste the same and there are certain rules for choosing wine that can be taken into account considering what to eat.
A common denominator, however, is that you should choose wines that have been stored in a steel tank rather than in oak barrels. This is to serve wines that have a fruity, fresh, natural and crispy structure, which is best suited for shellfish. Oak barrel storage rounds off the acidity, the freshness and creates a more powerful and fatter style of wine.
Some seafood such as oysters are eaten raw and have a high iodine content. Others are boiled in salty water, which gives high saltiness. Other shellfish such as mussels are often served in a flavorful sauce. The choice of wine is therefore not as easy depending on what it will be served for. Here are some guidelines that can be good to take with you when choosing wine for seafood :
-Raw seafood (oysters, mussels, marinated scallops, palourdes / vongole, praires de Granville often with high iodine content): choose a white wine with high acidity. The iodine content of what you eat will balance the acidity in the wine and give the taste a rounder and more fruity style. Feel free to have a wine with a high minerality, but avoid oak storage that is too powerfull for the taste-subtle shellfish.
-Boiled seafood in salty water (lobster, crab, lobster, shrimp): the same applies as for oysters, but the saltiness in the brine means that you can very well choose more aromatic, floral white wines with less acidity. Viognier, Roussanne and Marsanne in the white wines of the Rhône Valley from Saint-Joseph, Crozes-Hermitages or Condrieu are excellent choices. Or why not try a semi-dry wine such as a Pinot Gris from Alsace? If the food is also served with cold sauces with sweet elements, you can also increase the sweetness in the wine you serve. A general rule is to always let the sweetness level in the wine be higher than the one served in the food. The opposite, i.e. serving dry wines with sweet foods emphasizes the acidity in the wine, which can distort the taste and sometimes actually ruin the taste experience from a very good, but dry wine.
-Lake Crayfish : hereyou can do a little as you like. Dry white wines go well, but the salty water makes it possible to serve both semi-dry wines or go all the whole way out to serve a sweet Gewurtztraminer from Alsace. High saltiness can thus very well be balanced with sweetness in the wine. –
-Cooked sea snails: (scallops, whelks (bulots), varied snail varieties: palourdes / vongole, praires de Granville in pasta): serve a dry white wine and if you do not like too straight and crispy white wines, pair with a with a more aromatic, rounder white wine. However, you should not choose wines with sweetness.
-Boiled mussels in sauce:if you serve mussels in the Belgian way where the mussels are boiled in a tasty sauce (Marinière, Poulette, Curry, Blue cheese…), you should take into account the style of the sauce you serve.
In summary, we can state that there is a plethora of different white wine alternatives when you want to serve shellfish (and then we have not even mentioned sparkling wine that also can be paired with shellfish). Feel free to think about the type of shellfish you should serve and follow the simple rules above when choosing your wine. A little food for thought before can really gild the taste sensations and therefore also the whole seafood party!