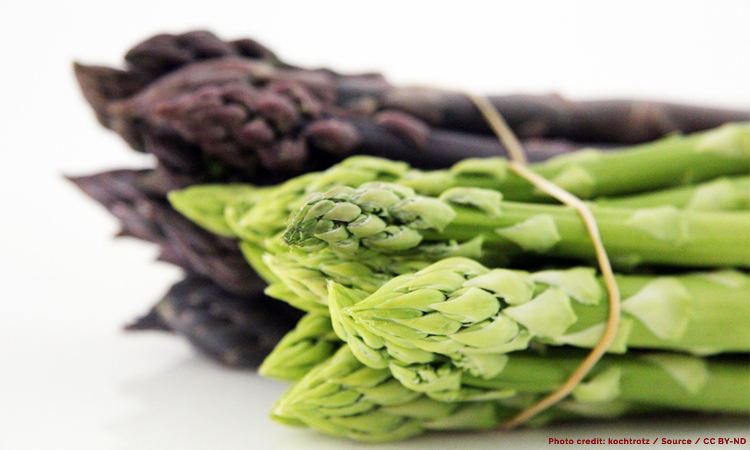 It's high season for asparagus – but what to drink with it?
Asparagus is a great vegetable that can be cooked in many different ways. The only negative thing with asparagus is actually that the season for fresh asparagus is too short… But at least it tends in the springtime to kick off the start of the primeur vegetable season!
Serving wine to asparagus is not easy. The asparagus is available in different varieties, but to simplify we can divide the asparagus varieties in 2 sorts; the white variety grown in the soil and the colored variety – usually green or purple – grown above the soil. The white, a bit fleshy asparagus has a slightly bitter but pleasant taste. Without going into detail on all possible recipes, it should be mentioned that the simply cooked asparagus – preferably in a pressure cooker that retains nutrients and gives a nice texture to the vegetables – serverad together with melted butter or a hollandaise sauce is a fantastic starter when served along with a piece of bread and a glass of wine!
What kind of wine should then be served with asparagus? Red wine is not recommended. The bitter taste of the asparagus enhances the tannins in the redwine, which unfortunately gives an unbalanced taste in the mouth. If someone really insists, I recommend to serve an easy chilled pinot noir wine with plenty of fruit. However, we prefer to select a white wine without oak barrel storage or why not, for a change, a rosé wine with character.
To select a wine with character is by important in any case, if you want it to go well together with the somewhat "difficult to pair" taste of asparagus. The white wines I recommend should either be crispy and mineral with good acidity, or be round and fruity.
For the white asparagus, I recommend a fresh crispy white wine with good minerality. In the Loire, Alsace we find what we are looking for and a white Sancerre from Jérôme Godon is a great choice. A Pinot Blanc or Riesling from Meyer-Fonné in Alsace is also very appropriate and for those who prefer wines from Burgundy, "Bourgogne" from Château Bellevernes with its floral and crispy taste works very well. In Italy we find many interesting white wines in the northeast, more precisely in Friuli and Forchir's Sauvignon Soresere is an excellent choice with its dry character but also aromatic hints of exotic fruit.
The colored asparagus has stronger, more concentrated flavor than the white, especially for those who have access to wild asparagus. The white wine to choose should therefore be rounder, fruitier and with less acidity. White wines from more southern districts may therefore be a good choice. The viognier varietal is excellent and also the Rhône-valley's Rousanne and Marsanne when they are vinified in a round but fresh style without oak barrel storage. Château de Triennes Sainte Fleur from Provence or Blanc de Garance from Domaine Rouge Garance in the Rhône Valley are obvious, but even Grenache Blanc from Mas de Tannes in Languedoc is a good choice. For those who want a more prestigious wine you can select a Condrieu from Caves Saint Désirat or a Condrieu from Domaine Vidal Fleury.
Finally, there is also a less classic option which works perfectly well; try your aspargus together with a fruity rosé wine with character such as Le Château from Château Thuerry or Moulin de l'Isle of Domaine de la Giscle.
Enjoy your meal!