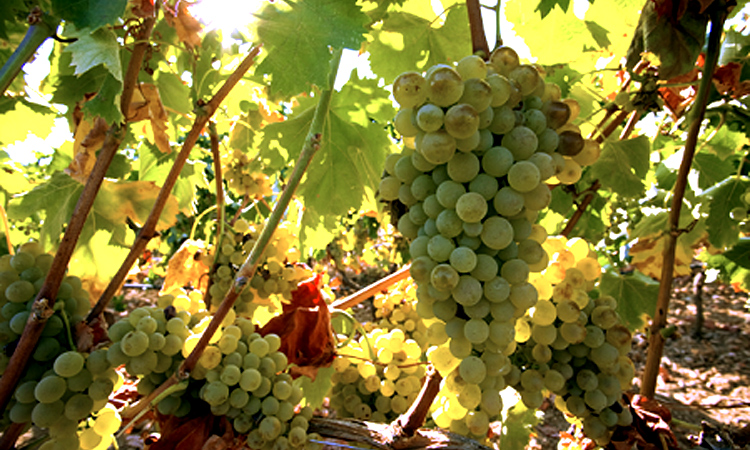 Lovely white summer wines of Rolle (Vermentino) from Provence and from Italy !
Chardonnay, Sauvignon and perhaps even Riesling are probably well known to all of us for being well-established grape varieties, used in the production of good white wines. But how about «Rolle»? It's certainly far fewer of us who know what Rolle is. Vermentino, which is the Italian name of the same grape variety, is probably more known, but not necessarily…
The Rolle grape can produce amazing wines of great elegance. The wines can vary a lot depending on where the grapes have grown and how they have been vinified. Rolle is an aromatic grape variety and the common denominator for Rolle and Vermentino is that they tend to be very aromatic as well and they often go well together with different type of meals and suit for different occasions.
Vermentino probably originates from Anatolia, which is located in today's interior and eastern part of Turkey. Vermentino has then via the Genoese merchants made their way to Italy and Corsica, before reaching the south of France where the grape variety has been called Rolle.
Rolle is a grape variety that needs a lot of sun and dry drained soil. That's why Rolle is mainly cultivated in the Mediterranean climate. In France, it's mainly in Provence, Languedoc, Roussillon and on Corsica wher you'll find Rolle plantations and in Italy we find Vermentino mainly in Liguria, Sardinia and in Tuscany.
The nose from the Rolle wines are often complex, with hints of citrus and white flowers. The palate is dry, but has round, warm notes of the South, where white fruits such as peach and pear express themselves with great elegance. The wines can be a bit buttery when aged in oak barrels. The Italian Vermentino wines are often drier than the French. They are slightly lighter with a bit lower alcohol level. The palate has more prominent acidity which can be useful when the wine should be served with seafood.
The Rolle- and Vermentino grapes are fantastic wines to drink in the summer. They come from Mediterranean regions and are appreciated when it's hot, both as an aperitif or with southern European fish dishes in the evening sun.
The Rolle wines from Provence are appreciated for their wide range of serving occasions. You can drink a Provençal white wines made from Rolle both as an aperitif for the wine's aromatic character, or together with seafood (except from oysters which require wines with higher level of acidity). Rolle wines go well together with pasta with pistou and also well with all types of dishes with ingredients coming from the Mediterranean. Rolle is a grape variety that, when well vinified, can compete with the most elegant white wines, often with a length and aftertaste that lacks comparison.
A beloved child has many names and the Rolle grape, which is called Vermentino in Italy, is named Vermentinu on Corsica. In Piedmont, the grape is called Favorita and in Liguria it can be called Pigato. Below I recommend a few very interesting Rolle/Vermentino wines that are well worth to try during the summer, but can of course be tasted all year round as well !
Domaine Gavoty: a domain that is well known for its Rolle wines and not using oak barrels whatsoever. «Le Clarendon» is a very aromatic and interesting white wine suitable for aperitifs and all kinds of Mediterranean dishes; Try them with an Italian spaghetti alle vongole. «La Cigale» is a simpler version, very aromatic, perfect as an aperitif or together with a grilled fish.
Domaine de la Giscle: Moulin de l'Isle is a typical Rolle wine with a fantastic balance betwee acidity and fruit. The wine is fermented in oak barrels and has subtle hints of vanilla. A masterpiece for those who like white wines with character.
Polenza Cinque Terre: a dry white wine with fine acidity from the east and fantastically beautiful part of Liguria known as Cinque Terre. A wine which by the side of Vermentino, also is produced from Albarola- and Bosco grapes. A light and fresh wine to drink with assorted seafood.
Cantine Lupo – Terra Marique: 100% Vermentino from Lazio south of Rome. A dry white wine with aromatic hints of citrus and white flowers. A fruity but dry palate with good acidity and with a pleasant bitterness in the finale. For an aperitif, together with a seafood pasta or with assorted seafood.
Santadi – Villa Solais: a fruity and generous Vermentino di Sardegna suitable for aperitif during the summer or to various lighter fish dishes.