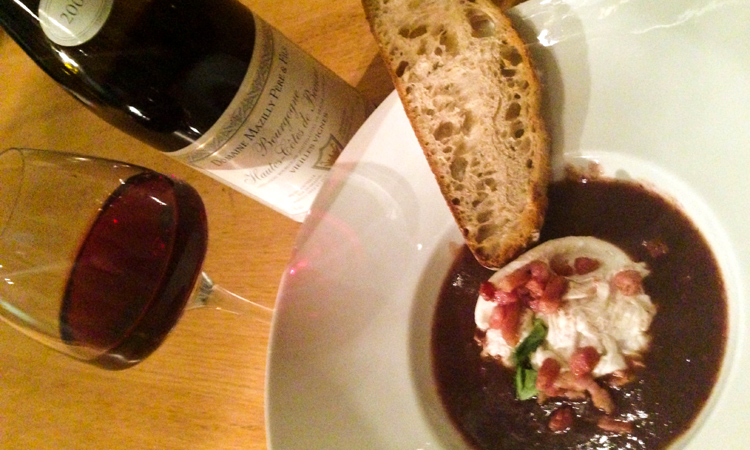 Oeuf en meurette
Ouef en meurette
Ingredients for 4 persons :
4 large eggs, red wine vinegar, 20g of butter, 3 onions, 1/2 carrot, thyme, 100g finely chopped smoked bacon, 5 cups of Burgundy red wine. A few slices of toasted country bread.
Cut the onion and carrot finely with a third of the bacon and add the thyme. Fry it all in butter until the onion becomes golden yellow colored. Then add the red wine and let simmer and reduce the sauce for about 40 minutes. Add half a dice of beef broth and adjust the seasoning with salt and pepper at the end of the cooking. If the sauce isn't thick enough, add a little corn starch. If you want a smooth sauce, you can strain it. Elsewise, if you want to keep the pieces of onion and bacon you can leave it, it's up to you ! I personally prefer to strain the sauce … Then fry the remaining bacon in a pan.
When the sauce is ready, it's time to poach the eggs. Put water to boil in a medium sized saucepan and pour 3/4 cup of vinegar into the water. Bring to boil. Only one egg at a time can be poached. Crack the egg into a small ramekin and pour down the egg in the middle of the simmering water while stirring it with a spoon. The egg white must cover all around the yolk. The egg is cooked when you no longer see the yolk. It takes about 2-3 minutes.
Add a ladle of hot sauce in a bowl, place the poached egg on top and decorate with a little fried bacon. Serve quickly with a slice of toasted country bread and a glass of red wine.
I recommend to serve this dish together with a red Burgundy wine. The picture shows a Hautes-Côtes-de-Beaune, but I recommend a Domaine Jaffelin Beaune 1er Cru. The red wine sauce along with the acidity in the Pinot noir grape enhances the flavor impression and give the wine a delicious taste of black cherry, black currant and blackberry. A very elegant wine to a dish with well-balanced flavor … Good luck! Don't hesitate to let me know how it went!