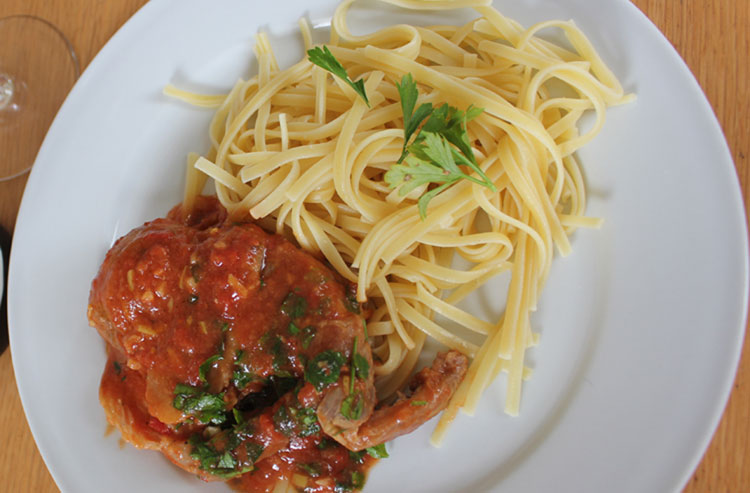 Osso Bucco
Osso Bucco Milanese
Osso bucco is a dish from the north of Italy, always very appreciated when served! It's an authentic dish inevitable for those who like Italian cooking. Osso bucco is relatively easy to do and should be served with a light and fruity wine. Tomato is always difficult to combine with wine, but a fruity Valpolicella or a Burgundy wine, preferably from the Côte de Beaune is a perfect choice.
For 4 persons you'll need 1 kg of osso bucco (veal shank), 3-4 ripe tomatoes, salt & pepper, 1-2 cloves of garlic, peel of an untreated lemon and parsley. Rub the veal slices in flour and fry them golden brown in a hot, oiled pan. When the meat is well browned, add the tomatoes which have previously been cut into pieces. Add salt and pepper and cook with the lid on. After an hour, add the chopped garlic, the lemon rind and the very finely chopped parsley. Let cook for another 5-10 minutes and serve warm on a plate along with tagliatelle …
For this festive meal, we serve a red wine from Burgundy or an Italian Valpolicella …
Buon appetito !!!