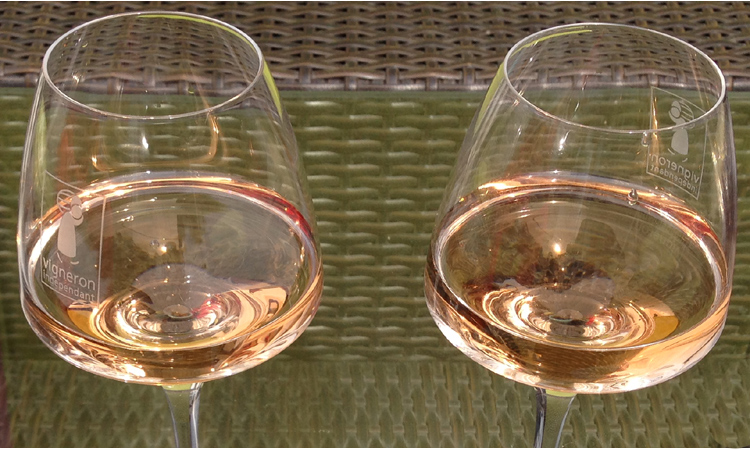 Rosé wine… from Provence !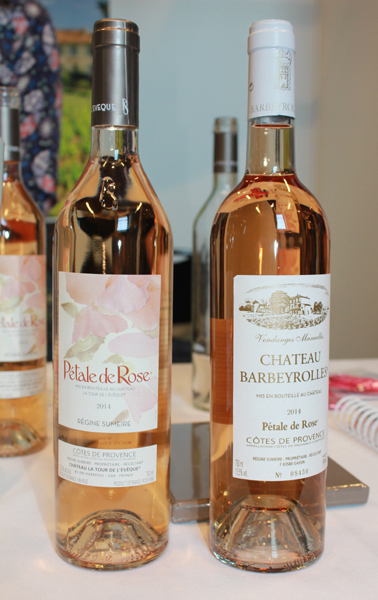 Spring is here and days become longer and warmer. Soon we'll probably dare to go out on the terrace again, craving for a glass of good and fresh rosé wine. The demand is rather seasonal and rosé wine is mainly consumed during the warm part of the year.
Rosé wine was for a long time regarded as a second category wine and many were those, who considered that the serious wine world consisted only of two wine colors; red and white.
Today, things have changed and the truth behind the success of rosé wine in recent years is probably found somewhere between the fact that the rosé wine quality has improved considerably, and that rosé wine also suits perfectly well with the modern, easy-going life style when it comes to food and wine. Rosé wine has a very wide range of usage. It goes for example vey well together with exotic food, which has become part of our everyday food culture. In France, which represents 30% of the world production of rosé wine and not less than 37% of the world rosé consumption, rosé wine today represents 1/4th of all still wine consumed in France.
Rosé wine is for some of us a relatively new trend, but what is forgotten is that rosé wine probably is the oldest wine ever produced, which both the antique Greeks and later the Romans drank during their era – a bright wine which most accurately can be defined as rosé wine. Chateau Barbeyrolles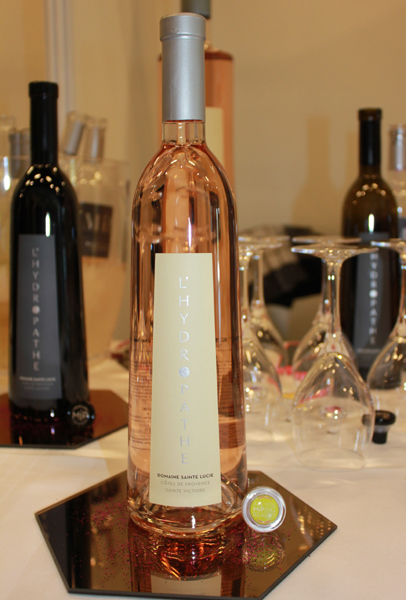 In France, rosé wine comes primarily from Provence, Loire and the Rhône Valley. These «Big-3" represent alone 71% of the total French rosé production. The biggest producing region is Provence. 90% of Côtes-de-Provence is rosé wine and Provence alone represents 39% of the total French AOP-rosé production. The Provence rosés are unique in many senses :
First the color. Historically, it's the Provence rosés which have been brightest in France and indeed even in international comparison. Provence rosés have what we call a salmon pink color, which goes from a yellowish orange / pink color to a bright pink color with bluer hues.
Several grape varietials are used for producing rosé wine in Provence. The Cinsault has a great importance for the typical Provence rosé wine, but also Syrah, Grenache, Carignan, Tibouren and the foremost Bandol varietal – Mourvèdre – are used. What is typical for Provence rosé wines is further that you may add up to 20% of white grapes into the wine composition. It is often the white varietal called Rolle (Vermentino in Italy) which is used, contributing to the aromatic complexity which is appreciated in rosé wines from Provence. It's always non-fermented white grapes which are used – not finished white wine mixed with the red grapes.
Domaine Sainte-Lucie The taste of rosé wine from Provence is appreciated for its light fruity structure. The palate has a fresh and natural fruit flavor. When the wines are young, they often bear hints of citrus and exotic fruits. But with age, the wines become rounder and have hints of candied fruit, dried fruit and in some cases also of honey or caramel.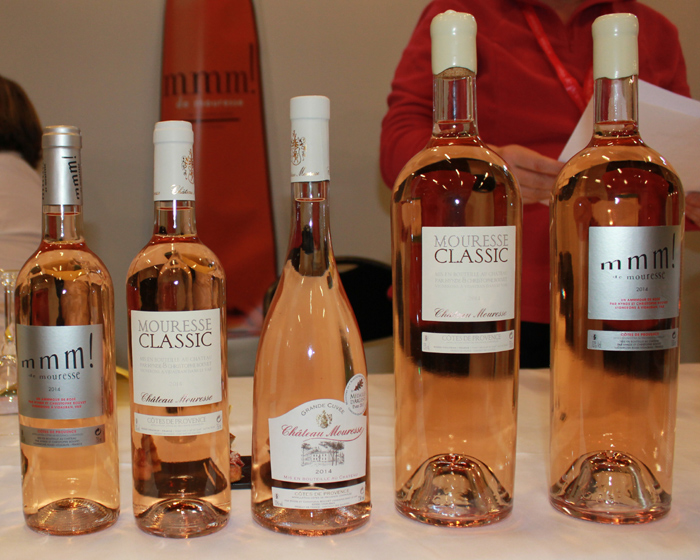 Chateau Mouresse – the whole rosé line-up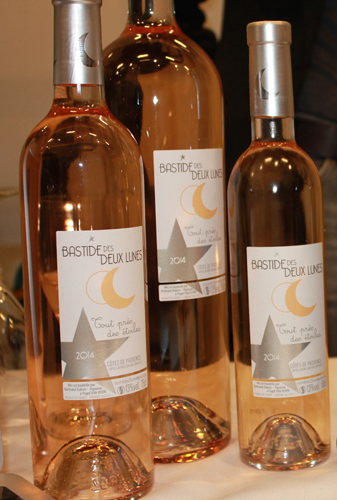 Rosé wines are said to be the easiest wines to produce, but if you want to make good rosé wines, it's maybe the hardest thing you can take on. Rosé wines are produced from grapes varietals with red skin and white juice. The classical technique, technique de saignée (blood drop technique) is basically the technique used to produce red wine with red grapes. The grapes are let, directly after harvest, to macerate between 2-20 hours in order to let the red skin secrete its valuable aromas and its red color. The temperature during the process is controlled at 16-20 ° C. When it's time and the color and the aromas from the grape skin has secreted sufficiently, the process is stopped by separating a portion, or all of the grape juice from the seed and grape skin mixture. You could say that the grape pulp is drained of its juice, or «its blood" (saignée). The remaining pulp continues to macerate and is used for producing red wine. The fermentation of the rosé wine only begins when the colored grape juice has been extracted.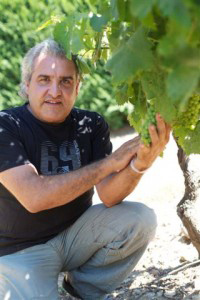 Domaine des 2 lunes Pierre Audemard from Domaine de la Giscle explains that today there are equipments which perform the process automatically and also hermetically which completely excludes the risk of oxydation during the process. This drastically reduces the need for sulphites in the winemaking. The equipment is however very expensive, between 100-200.000 € per tank. To produce good rosé wines is thus both expensive and difficult, and it's easy to understand that traditional wine-growers reacted violently when Brussels with Barroso at the forefront, in 2009, intended to authorize, like for example in Australia and South Africa , the production of rosé wine as a simple mixture of red and white wine.
Alongside the Saignée technique, there is a less used technique called pressurage direct (direct pressure). It's the same technique as used when producing white wines, but in this case with red grapes. The red grapes are pressed immediately after the harvest and the first colorless grape juice is mixed with the more colored press juice. This technique is considerably cheaper, the equipment is smaller in volume and less costly. The vinification also goes much faster since you don't need to macerate the grapes emphasizes Pierre Audemard at the domaine de la Giscle. This is a technique that can provide good wines, but in that case in small volumes and not industrially. The color of these wines can be almost transparent since the grapes don't macerate, but the color comes from mixing with colored press juice .
Pierre Audemard – Domaine de la Giscle
This is also a technique which, when misused, allows the production of quick-produced, less expensive, bright wines, often rich in sulphites. The color is not the only criterion for the rosé wine to be of outmost quality. Rosé wines from for example Tavel, Roussillon or Marsannay in Burgundy are darker in color, but are still considered to be among the best French rosé wines. At the end it's all very much a question of personal taste and bright rosé wines are today very popular.
Rosé wines should preferably be drunk young if you want to preserve the fresh and crisp taste, preferably in the year following the harvest. A well-made rosé wine can be stored for 2-4 years, but the taste evolves and will become rounder and lose fruitiness. In addition to this, there are rosés which have been stored in oak barrels and these premium rosé wines can be stored up to 5 years without problem.
The serving occasions are very different when we talk rosé wine. Most people probably think of the aperitif moment in the summer months, but rosé wine can also replace a white wine when serving a fish dish. Rosé wine can be served with both pizza and pasta dishes and can actually be a very good choice for grilled meat, especially if you use spicy marinades which can be difficult to serve with red wine. Rosé wines are excellent for exotic foods such as sushi or spicy dishes and the fresh rosé wine taste gives a nice counterbalance. Last but not least, oak barrel stored premium rosés may very well replace a buttery Burgundy wine, served together with a fish with melted butter or indeed even replace a red wine when serving chicken or red meat.
Rosé wine is definitely here to stay and wine consumers currently have three equally worthy colors of wine to choose from. Provence rosés are very good in terms of quality and they are the wines we advocate until the contrary is proved.
Source for numbers : Appellation Côtes de Provence
Moulin de l'Isle – Domaine de la Giscle