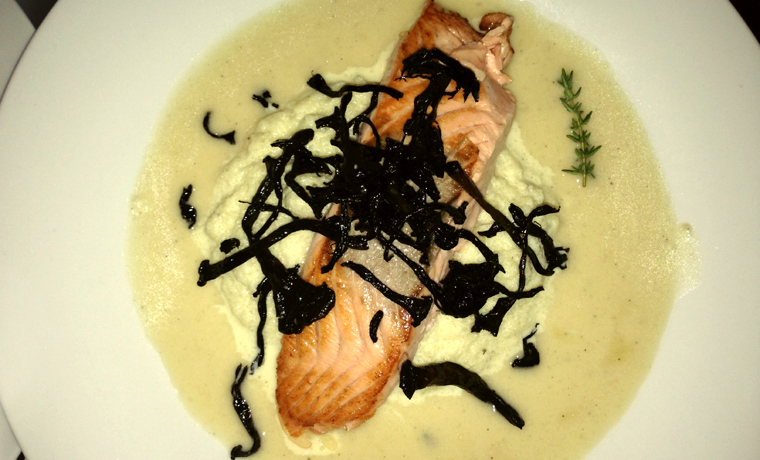 Salmon in creamy sauce over mashed cauliflower and crunchy trumpet mushrooms
Salmon in creamy sauce over mashed cauliflower and crunchy trumpet mushrooms
This dish isn't very complicated, but it's delicious and has an impressive look when you receive guests!
For 4 persons
Ingredients:
600 gr of salmon filet
200 gr fresh trumpets mushrooms or 50 gr dried (you can also take chanterelles)
For the mashed cauliflower :
250 gr of cauliflower
1 dl of water with 1/3 vegetable bouillon cube
1 dl of cream
salt & pepper
For the sauce :
1 chopped oignon
1 finely chopped carrott
5 dl of water with fond or with 1 fish bouillon cube
2 dl of dry white wine
2 dl of cream
1/2 coffee spoon of Maïzena
salt&pepper
Recipe:
Cut bouquets of cauliflower and add them to the broth. Then add the cream and let cook for 10 minutes. Mix everything and set aside.
For the sauce, fry the chopped onion and carrot in some butter for 3 minutes. Add 5 ml of water with the bouillon cube, bay leaf and the pepper. Simmer for 10 minutes. Strain the mixture through a sieve. Add the white wine and simmer until the mixture has reduced to 2.5 dl. Then add the cream and cook for 3 minutes. To thicken the sauce, mix a coffee spoon of cornflour in some cold water and then add the mixture to the sauce. Taste the sauce and adjust the seasoning with salt and pepper. Fry the mushrooms (if dried, you need to rehydrate them in warm water for 20 minutes) in a pan with some butter. Take the salmon and cut it into 4 pieces. Add salt and pepper on both sides and put the pieces into a hot anti adhesive stove. Roast the surface, flip your salmon pieces. For a perfect cooking they should be golden on the outside and pink inside!
Presentation:
Place the cauliflower puree in the center of the plate, the salmon on top. Pour the sauce around the puree and top with crunchy fried chanterelles. I recommend serving this dish with mashed potatoes! Bon appetit to all!