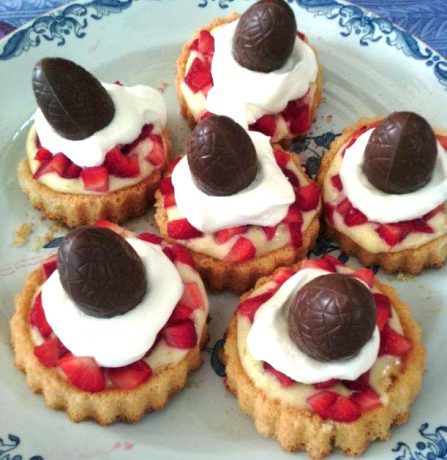 To recycle the Easter chocolate …
Each year, after the Easter weekend, the house is full of uneaten chocolate eggs, chickens and bunnies … They are often forgotten in a corner for a later occasion, but they probably bleach, turn white and all of it ends up in the trash bin!
This year I've tried to anticipate it all, and I have therefore "stolen" a couple of chocolate eggs from the kids (shame on me!) to put them on my individual Saturday night dessert cakes. And it certainly made an impression on my guests …!
For the recipe, take a sponge cake, preferably in individual size for each person. Make a custard that you spread on(write to me if you need the recipe!). Then whip some cream that you once again spread over the cake. Finally sprinkle on, or put down the Easter chocolate into the cream, all depending on the kind of chocolate you have. If you already have access to strawberries, you can slice a few of them and put down a couple of pieces in the whipped cream as well!
For this dessert I recommend a sparkling wine – either an Italian Prosecco Extra Dry or a good Champagne Brut or Demi-sec for those who want a sweeter taste! Good luck!
!