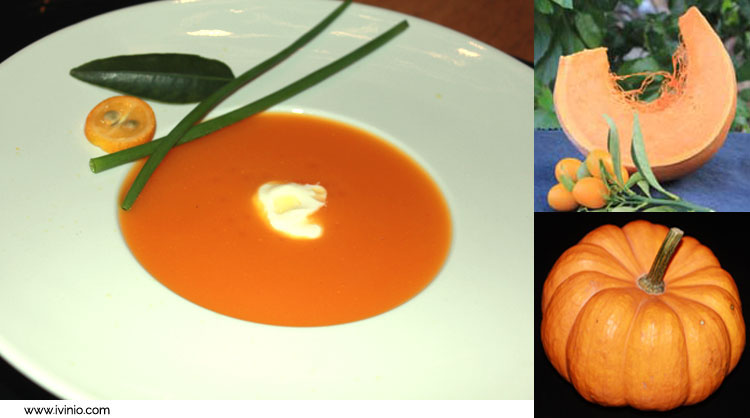 Velouté de potiron
Delicious homemade Pumpkin Soup

Pumpkin is called Cucurbita maxima in Latin and is a vegetable of the family of Cucurbitaceae or Cucurbits. The plant comes intially from the tropical South America and has in rent years mostly become famous thanks to the pumpkin halloween masks. But pumpkins are cultivated as a creeping garden plant because the flesh is not only aestetic, but above all edible. It's actually one of the five most widely grown cucurbits.
Like all cucurbits, they were introduced to Europe through the Portuguese in the 1600s. Today it is China that that is the biggest cultivating country in the world (30%), followed by India (18%) and Ukraine (5%).
Pumpkin is a perfect base for making delicious soups, especially at wintertime. Below I share a very nice recipe for making a delicious pumpkin soup. It's rather simple to make, tastes wonderful and is on top of that very healthy!
What you need is:
1 kg of pumpkin
2 medium potatoes
One onion
A chicken stock cube
1/2 liter of water
crème fraiche
Salt and pepper
Peel the pumpkin and cut it into pieces. Do the same with the potatoes and the onion. Put the vegetables in a saucepan. Add water, bouillon cube, salt and pepper.
Let it cook for 45 minutes until the vegetables become soft. Mix the vegetables finely, taste and adjust the seasoning if needed. Add a little of fresh cream in the soup if you want it more creamy, then stir. Elsewise you can add in a dollop of cream in the center of each plate of soup before serving. I usually add a little grated kumquat to give the soup a fresh citrus flavor. It is absolutely not necessary and if you can't find any kumquat, you can instead take a little of grated orange peel.
I recommend to drink a lighter red wine to the soup. For example a wine from the Loire. In my case a Pinot Noir from Jérôme Godon whose lightness and finesse respects the nice pumpkin flavor. If you want to drink a white wine, I recommend a relatively dry one. As e.g. a Soave from Lazio Morini. Add a piece of bread to the meal and that's it!
Enjoy your meal!