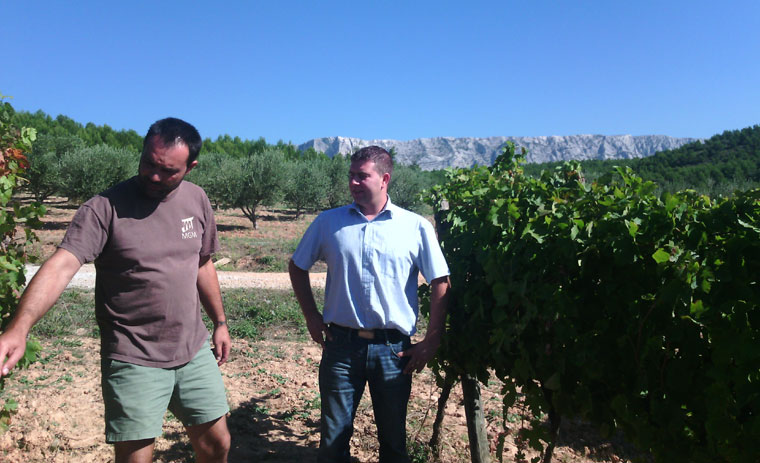 Visit to Domaine des Masques – Aix-en-Provence
One day, if you arrive to Aix-en-Provence, 30 km north of Marseille, you will very likely be recommended to go to the Ste-Victoire mountain, situated only 10 km from Aix and which has been subject for many great artists, mainly the great Cezanne who was born and also lived in Aix-en-Provence.
On the other hand, what you will probably miss is a visit to the Domaine des Masques which is located at the foot of the Sainte Victoire mountain. The road to the vineyard is not really signed up and if you, after all, would find the exit to the winery, you will pretty soon realize that you'd rather have a SUV or an other off-road vehicles to get around on the very simple gravel road. However, once arrived at the vineyard and with a glass of wine in your hand you'll realize that it was well worth coming!
Domaine des Masques is located in the Provençal "garrigue" (scrubland) composed mainly of wild rosemary, thyme and other highly aromatic herbs. In ancient times, medicine men and witches, the so-called "Masco" in Provençal, came here to provide themselves with herbs and spices. Domaine des Masques has therefore received its name from these "Mascos". The vineyard was created in recent 1992 and the "non-Provençal" grape variety Chardonnay was planted in the first 4 hectares of land. This unconventional way to plant Chardonnay in Provence is a good example of Domaine des Masques' winegrower philosophy. Strictly made appelation wines are not of interest here, the choice is rather to go its own way. Grape varieties are planted according to personal taste rather than from conventions and thanks to the very modern winery equipments, premium quality wines with great personality are produced here. Carl and Sophie Mestdagh bought Domaine des Masques in 2003. New grape varieties have been planted since then and the new owners have also continued in the spirit of firstly focus on quality.
Therefore, in 2009, Domaine des Masques started to collaborate with Yves Cuilleron who is a great wineproducer from the northern parts of Côtes-du-Rhône. Yves produces primarily Côte-Rôtie, Cornas and Condrieu in the Rhone Valley, but when he came to the magnificent Domaine de Masques in Provence and saw the typical Rhône-valley plantations of Syrah and Viognier, it was completely natural to take on the wine production at Domaine des Masques. The winery is currently run entirely without either chemical pesticides or chemical fertilizers and the agriculture is what is called "reasonable". This means that the agriculture meets with many of the requirements to qualify as being organic, but stamps and administrative documents have not been asked for.
In the range, there are 2 reds and 1 white variant which have been either stored in oak barrels or in steel tanks. The steel tank variants are called "Essentielle" and the oak variants are called "Exception". There is also a rosé and two specially produced wines – a Syrah and a Viognier called "Syrahditif" and "Viognaditif".
The "Essentielle" wines are "pure" and fruity since they have been stored in temperature-controlled stainless steel tanks. The white version is a 100% chardonnay, very fresh and with great finesse. Dry, yet very aromatic and goes well together with grilled fish, a seafood terrine or simply as a refreshing aperitif. The redwine comes in 2 versions. An "Essentielle" made of primarily Cabernet Sauvignon and a dash of Marselan. The wine is fruity and well balanced. The scent is aromatic and has elements of mostly roasted peppers. In addition, there is an "Essentielle Syrah" which is a slightly more spicy variety of the same type of wine.
The "Exception" -wines are the more exclusive wines aged in oak barrels. The white wine is buttery and reminds of a fine Burgundy wine. It suits well with spicy dishes, with both fish and white meat in creamy sauces. The red "Exception" Syrah has a great complexity, a real taste explosion! First of red and black berries, then licorice, spices such as pepper, bay leaves and hints of coffee. A perfect choice for a meat dish with a sauce … The red "Exception" is also available in a version made of 100% Cabernet Sauvignon. Maybe a little less complex than the Syrah, but with a fullbodiness and freshness that makes it very interesting together with meat dishes.
You can of course find the Domaine des Masques wines on www.ivinio.com.