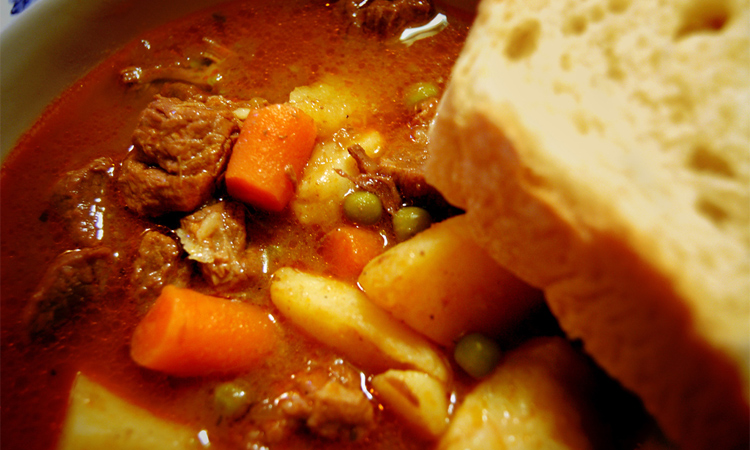 What to drink together with a hearty winter stew?
The winter lasts and for some time to come it will still be comfortable to stay indoor, preferably in front of an open log fire for those who have this privilege. Casserole dishes of various kinds tend to be popular at this time of the year – a rich stew both warms and fills you up when it's cold outside! There's a lot of different recipes and casserole dish styles available and it's therefore not quite clear what kind of wine to pair, it simply depends on what kind of dish you intend to cook.
To the most common, rather powerful meat and game stews – for instance to a Bœuf Bourgignon or to a Daube Provençal – it would be most suitable to serve also a powerful wine. Food which is rich and powerful is mainly recommended together with wine which are as well rather powerful and full-bodied. In France, we therfore chose wines from the southern parts where the warm sun gives grapes with high sugar content which in turn provides powerful wines with depth and character. The primarily recommended districts are Côtes-du-Rhone, Provence and Languedoc. Bordeaux wines can also be a good choice, but if the stew is too spicy, there is a risk that the complex aromas of a fine Bordeaux falls away. Wait with this wine for a good steak instead! In Italy, the choice goes to Tuscany (such as a Chianti Classico), Puglia (a Primitivo), Basilicata (an Aglianico) or to Sicily (Nero d'Avola) – in other words to the south and meridional parts of Italy.
There are also pot recipe which have a lighter and rather broth type of sauce. The base is usually meat boiled in water with vegetables. Pot-au-feu is a classic among these recipes. The broth is thinner than in the richer pot dishes and a full-bodied wine can together with these dishes become unbalanced, especially if the dish contains cooked vegetables and if the wine has powerful tannins. Together with a broth sauce it's rather recommended to choose a lighter red wine with good acidity. A Morgon, Fleury or Juliénas from Beaujolais or a red Sancerre, alternatively, a Saint-Nicolas-de-Bourgueil from the Loire and to a certain point a red Burgundy wine is to recommended from France. In Italy, a regular Valpolicella or a red wine made from Refosco grapes from Friuli could be a very good choice. Even a fruity Barbera from Piedmont can do well.
For a fish stew with vegetables – perhaps with a touch of saffron – we serve a dry white wine, preferably made from Chardonnay or Sauvignon but wines made of Rolle grapes from Southern France is also a good choice. In Friuli in Italy we'll find wines made from the less known Ribolla and Friulano grapes that might be worth to try and the Soave wines from Veneto is also an excellent choice.
We have also exotic stew dishes. A Thai chicken with coconut milk and lemongrass, a curry from India, a Moroccan Tajine or an exciting casserole and sauce dish from China or Vietnam are just a few examples from cuisines that aren't always easy to combine with wine. I recommend choosing a fruity and not too dry white wine with low level of acidity. Forget red wines which most often don't fit with exotic spicies. A white fruity Côtes-du-Rhône will do much better. White Côtes-du-Rhônes are often made from Marsanne and Rosanne grapes that provide round and fruity white wines, but with a certain freshness. Viognier is also a grape variety with limited acidity that goes very well to exotic stews. The fruit and roundness of these white wines have a great tendency to stand against both sticks of cinnamon, anise and other difficult to win spices. Last but not least, we nonetheless have a little drier option; you can also choose a fruity rosé from Provence. It is quite excellent with spicy aromas!